Gmail Now Lets You Unsend Your Worst Emails
A welcome answer to the question, 'Wait, what have I done?'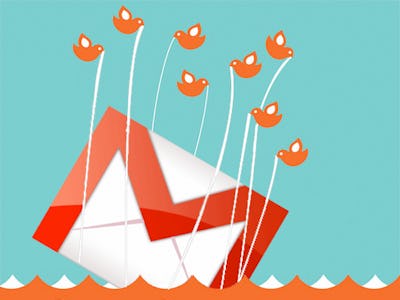 www.flickr.com/photos/26362833@N02
Google just let you turn back time.
After a few years of experimenting with an undo feature on their now-defunct Google Labs page, where they would allow users to test out prototypes and new features, the function is now available to all users.
The tl;dr is that now you can get high on glue or just plain ol' pickled-drunk and email without worry. Too much worry, anyway.
The new tool works by allowing users to custom set the delay time on e-mails from the impossibly quick 10 seconds (for when you're in serious denial about sending an email) to the more reliable 30 seconds (for when you realize after a moment how bad you messed up whatever it is you messed up in your message). It's not so much a power to reverse time as to put a time-delay on your inevitable errors in judgment.
To set the undo function, go to the little cog icon at the top righthand corner of your Gmail account and click settings. Scroll down about halfway under the General tab until you see the "Undo Send" option, then click "Enable Undo Send" and choose how long you want to ponder your email-based mistakes.
After that sit back, relax, and run wild on any emails you send because you'll have the luxury of making them disappear, unless it's after 30 seconds. After that you're shit out of luck.