'Last Jedi' Box Office Reveals 'Star Wars' Isn't Popular in China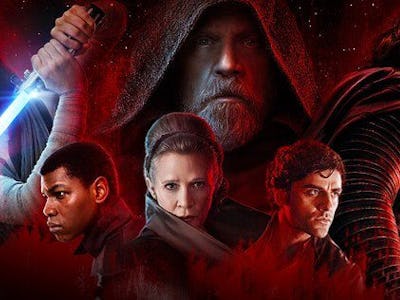 Lucasfilm
The future of a galaxy far, far away won't be affected by the dismal numbers garnered in China over Star Wars: The Last Jedi's opening weekend. If anything, the numbers just prove, once again, that China isn't that into Star Wars.
As reported by CNN on Monday, Star Wars: The Last Jedi opened to an estimated $28.7 million in China over the weekend, falling astonishingly far behind its predecessor, Star Wars: The Force Awakens, which opened in China at $52 million. Even Rogue One: A Star Wars Story, the first Star Wars film without any connection to a trilogy, beat out The Last Jedi at $30 million on its opening weekend in 2016.
While Last Jedi opened in the United States at over $220 million, it didn't manage to beat out The Force Awakens at home, either, since The Force Awakens opened in the U.S. in 2015 at a record-shattering $250 million. Despite this $30 million loss on The Last Jedi's part and how it breaks from traditional Star Wars box office statistics, Star Wars still does well in the U.S.
It just doesn't go over well in China.
"Star Wars is a cultural phenomenon in the United States and other parts of the world, but in China, the original films did not have a wide theatrical release and were not part of the cinematic culture," Paul Dergarabedian, senior media analyst at comScore, told CNN. Just as with The Force Awakens in the U.S., the decade-long hype leading up to the film helped out the numbers as even the vaguest of Star Wars fans got into the celebration. The Last Jedi, the third new Star Wars film in as many years, isn't nearly as special as The Force Awakens was.
However, it's important to keep in mind that The Last Jedi didn't do badly at the box office. In fact, comScore reported that The Last Jedi is now the sixth-biggest U.S. film release in history at over $1.2 billion worldwide. That's nothing to shake a lightsaber at.
Star Wars: The Last Jedi is now in theaters.