Who Is Har Gobind Khorana? How the Biochemist Aided DNA Research
He created the first synthetic gene.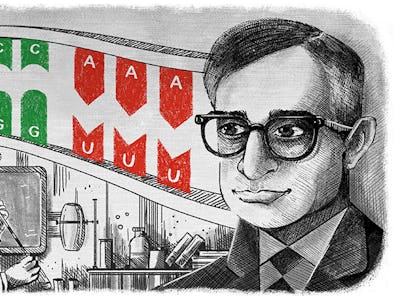 Google
Google paid tribute to a superstar of biochemistry on Tuesday, as it placed a "doodle" tribute to Har Gobind Khorana in celebration of his 96th birthday. Born in British India in 1922, Khorana went on to win the Nobel Prize Winner for Physiology and Medicine in 1968 for his groundbreaking research into how nucleotides — the building blocks of DNA — determine which amino acids are built. The acids are used to create proteins, which then complete the basic functions of cells.
Khorana led an incredible life of achievement from humble beginnings. The youngest of five children, Khorana grew up in the village of Raipur, today part of Pakistan. His father, a village agricultural taxation clerk, instilled the importance of education in his children, and as a result Khorana was part of one of the few literate families in the village of around 100 people.
In 1945, Khorana received a Government of India Fellowship to study for a PhD at the University of Liverpool. Three years later, he received a doctorate in organic chemistry. From there, he continued conducting research in universities in Switzerland, England and Canada. It was at the University of Wisconsin that Khorana made his prize-winning discovery, along with two other researchers. Five years later, Khorana created the first synthetic gene, a breakthrough that earned him the National Medal of Science.
Khorana was described by the New York Times as "an unassuming man" that "shied from the spotlight." However, his regular moving around the globe took its toll. During his time at the University of Wisconsin, he became a naturalized American citizen. He married a Swiss woman, Esther Elizabeth Sibler, in 1952.
"Esther brought a consistent sense of purpose into his life at a time when, after six years' absence from the country of his birth, Khorana felt out of place everywhere and at home nowhere," the Nobel Prize website states in his biography.
Khorana passed away in 2011 at the age of 89.
Rohan Dahotre, an artist and designer based in Bangalore, created Tuesday's doodle. See some of the early versions of the doodle below:
It's not the first time Google has paid tribute to a science superstar on its homepage. Previous doodles have celebrated the lives of figures like astrophysicist Subrahmanyan Chandrasekhar, quantum physicist Max Born and explorer Fridtjof Nansen.