NFL Playoffs: Who Wins Buffalo Bills vs. Jacksonville Jaguars? AI Predicts
Welcome back to the playoffs, Bills and Jaguars.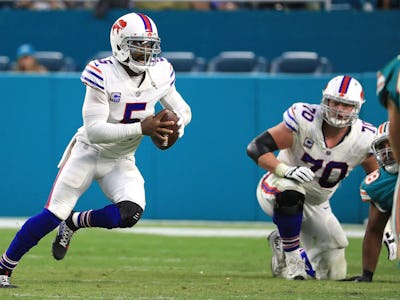 Getty Images / Mike Ehrmann
The Jacksonville Jaguars hadn't made the playoffs in a decade before winning the AFC South this year — and their drought is nothing like the 18-year wait the Buffalo Bills endured before finally making it back to the postseason. A hive mind of about 50 NFL fans predicts the Jaguars will win Sunday.
If either of these teams were taking on a seasoned postseason team like, say, the Baltimore Ravens — whose shock loss to the Cincinnati Bengals is what catapulted the Bills back to the playoffs — then perhaps we would run into the classic problem with any feel-good story. One team is a little too happy just to be there at all and can't compete with the more experienced, focused team. Here, however, neither team can claim any familiarity with playoff football, so they can both experience the acclimation period before getting on with it and trying to win the game.
On that score, Jacksonville's league-best defense figures to be the difference maker here, especially when Bills running back LeSean McCoy suffered an injury in the finale that leaves him questionable for Sunday. The quarterbacks are a bit of a study in contrasts: Jaguars starter Blake Bortles looked elite for a few weeks at the end there before throwing five interceptions in his final two games, while Tyrod Taylor has been solid if unspectacular throughout the season, even when Buffalo inexplicably benched him.
To predict the result of this and other games, Unanimous A.I. used what's known as swarm intelligence to forecast the week's slate. About 50 NFL fans worked together as a hive mind to make picks. As you can see in the animation below, each participant controlled a little golden magnet and used it to drag the puck toward the answer they thought was the most likely outcome. As the users saw the puck move toward a particular outcome, it triggers a psychological response. They readjust their decision-making, building toward a consensus. Here's Unanimous A.I. founder Louis Rosenberg explaining swarm intelligence at a recent TEDx Talk.
Unanimous A.I. has made some scarily accurate predictions in the past using swarm intelligence, as our previous article explains. For instance, the swarm went a perfect 7-0 in its most recommended picks for an English Premier League slate earlier this season.
The swarm predicts the Jaguars will win with high confidence and 82 percent brainpower behind the pick.
The hive mind predicts the Jaguars will win by seven to nine points. The Vegas line has Jacksonville by 8.5 points.
The game kicks off 1:05 p.m. Eastern Sunday on CBS.