NFL Playoffs: Who Wins Tennessee Titans vs. Kansas City Chiefs? AI Predicts
Two teams looking to snap long playoff droughts.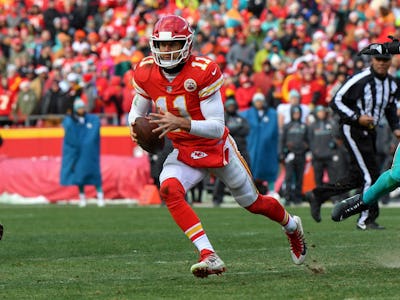 Getty Images / Peter Aiken
The Kansas City Chiefs welcome the Tennessee Titans to the cold of Arrowhead Stadium for the first game of this year's NFL playoffs. Who will emerge victorious? A hive mind of about 50 NFL fans predicts the Chiefs will win Saturday.
The Chiefs haven't won a home playoff game since 1993, when they managed a 27-24 overtime triumph over the Pittsburgh Steelers — who, incidentally, they lost to in agonizing fashion at home last year. The Titans are making their first playoff appearance since 2008 and looking for their first win since 2003. Neither team has had a smooth road to this point: The Chiefs lost five of six in the middle of the season and looked lost, but they won their first five and then their last four, so maybe they are coming together at the right time? Maybe?
Harder to argue that for the Titans, who suffered tough losses like a 40-17 shellacking to the Steelers, then lost four in a row before managing a 15-10 win over a Jacksonville Jaguars team with nothing to play for to clinch their playoff spot. But hey, the playoffs are a whole different season, and one of these teams has a chance to make a statement and carry some momentum into the next round against the New England Patriots… or, quite possibly, those same damn Steelers.
To predict the result of this and other games, Unanimous A.I. used what's known as swarm intelligence to forecast the week's slate. About 50 NFL fans worked together as a hive mind to make picks. As you can see in the animation below, each participant controlled a little golden magnet and used it to drag the puck toward the answer they thought was the most likely outcome. As the users saw the puck move toward a particular outcome, it triggers a psychological response. They readjust their decision-making, building toward a consensus. Here's Unanimous A.I. founder Louis Rosenberg explaining swarm intelligence at a recent TEDx Talk.
Unanimous A.I. has made some scarily accurate predictions in the past using swarm intelligence, as our previous article explains. For instance, the swarm went a perfect 7-0 in its most recommended picks for an English Premier League slate earlier this season.
The swarm predicts the Chiefs will win here with high confidence and 82 percent brainpower behind the pick.
The hive mind likes the Chiefs to win by seven to nine points, with 84 percent brainpower behind the prediction. Vegas has the Chiefs by eight points.
The game kicks off 4:35 p.m. Eastern Saturday on ESPN.