Who the Hell Was That Dead-Eyed 'True Detective' Singer?
A closer look at a memorable 'True Detective' debut.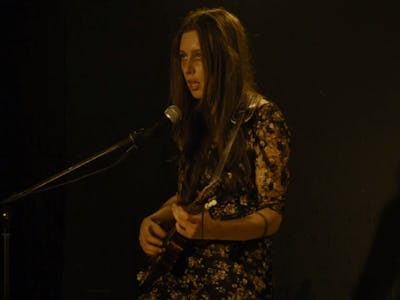 Music is important to True Detective – you probably wouldn't have to sit through those long-ass themes if it wasn't – and the series has often used music to set the emotional tone of the season. Given that our first glimpse at True Detective's second season gave us darkness in every corner, the appearance of the grim singer in the bar where Ray Velcoro and Frank Seyman meet is perfectly on-brand. But who is the singer?
She's Lera Lynn, a 31-year-old songwriter from Nashville who caught True Detective soundtrack composer T-Bone Burnett's ear. He enlisted her to write with Rosanne Cash, and together they recorded a number of songs for the soundtrack that all allegedly embody this dark, haunted mood. Burnett almost used a song from her 2014 EP Lying In The Sun but instead elected to record new material. Naturally, executive producer Nic Pizzoloto gave Lynn a strange, but heavy-sounding, prompt: "I believe Nic said he was looking for a song about a lover who dies and comes back as a crow" Lynn told The WSJ. She nailed it!
https://www.youtube.com/watch?v=0ejDvenTsdk
World, this is Lera Lynn and she's about to get that sweet, sweet True Detective bump. Her latest album, which Lynn describes as "post-Americana," is The Avenues.