Russia's Biggest Self-Driving Car Project is About to Make Its CES Debut
Cognitive Technologies has a big plan.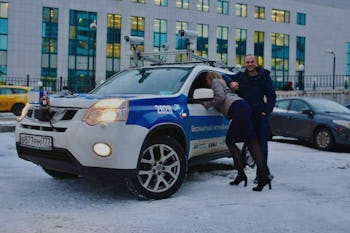 Cognitive Technologies
Russia's first and largest autonomous car project is about to reach the United States. At the Consumer Electronics Show in Las Vegas next week, Cognitive Technologies will demonstrate a self-driving car system that's primed for the world's roughest roads and runs on standard computer hardware.
As the company's president tells Inverse, it's the culmination of a journey sparked by the success of a chess computer, fueled by a desire to reduce road deaths, and hampered by American visa issues.
The company has an impressive resumé. Founded in 1993 by the guys who created the world's first computer chess champion, Cognitive Technologies worked on technologies including image and voice recognition, and in the past has worked with big names like Intel and Yandex. In 2014, the Cognitive Pilot program was set up to apply the company's talents to autonomous driving.
"The whole project was built to design the autopilot for real roads, Russian roads," Roman Tarasov, the company's VP for global business, told Inverse in March 2017. "Most of the roads on the planet are like this. So lack of light, snow, fog, bad road marks."
Watch the company test its autonomous driving system on the roads in November 2017.
As Waymo, Tesla and Uber battle it out in Silicon Valley, Cognitive has quietly moved from strength to strength. It's hosted a hackathon with students from MIT, Cambridge and Peking University. It's developed assistive driving technologies for Russian trucking giant Kamaz, with a view to developing a fully autonomous truck by 2020. The team has moved some of its operations to Amsterdam, while research continues in Moscow. CES is the next big step.
Inverse spoke with Olga Uskova, president and founder of Cognitive Technologies and developer of Cognitive Pilot, to find out more about the big moment.
How are you feeling about the big CES moment for your company? Nervous? Excited?
It's a first run, a premiere for us. It will be Cognitive Technologies' first time at CES. Of course we worry. We will present a number of completely new technologies that we have never demonstrated before at any other event. And of course we are naturally worried about the reaction of specialists who come to CES from all over the world.
How many people are going from the company, who is representing Cognitive?
Unfortunately, some negative visa issues that arose recently between our countries made it impossible for half of the announced team members to arrive to the U.S., but key specialists will be at CES. For example, everyone will be able to chat at the booth with the CTO of the company.
Why is CES important to you?
We believe that CES is the quintessential show of all consumer wishes and desires for the upcoming year. New trends, latest releases, brand wars, newcomers and outsiders - all will be there. A lot becomes clear after you study the list of participants and their contribution to the world's economy.
What message do you want to give to people?
We can and we must save millions of people who die on the roads around the world. The official statistics show more than 1.3 million deaths per year. Our technologies can already reduce this horrible figure by 44 percent, so several hundred thousand people will remain alive if these technologies will be promptly implemented.
My academic supervisor died in 1993 in a terrible car accident. After a car accident in 1997, I personally experienced seven operations on my face. Almost every family in the world has something to remember on this terrible topic. It seems to me that there will be nothing more important at CES than our booth.
Do you expect a lot of skepticism from people more familiar with big names like Waymo?
No, I don't. The new markets in the automotive sphere are still forming at the moment. Only fools will wrinkle their noses at the sight of the new names. In reality everyone is looking for fresh solutions and new breakthrough technologies. The markets of neural systems developers, vision systems manufacturers, manufacturers of autonomous cars — these are still very young and exclusive. They now require some serious scientific and financial investments. Therefore, there is an increased attention of serious experts to such companies as ours. For us it is a very big responsibility.
Have you had any interest from CES attendees already?
Of course we've been preparing for this exhibition and in advance we have arranged a number of meetings with some partners we are interested in. We are waiting for innovations in the fields of microprocessors and video cameras, and also in the fields of Internet of Things and connected cars. We are very interested in the joint work, because this is the only way we can offer an ideal product for a modern customer, a user of an autonomous vehicle.
Will you be demonstrating the tech at CES? How is the booth set up?
Our mission is to show real technologies that can work in real time on real roads. We are bringing from Moscow technologies that are not afraid of snow, mud and impassibility of roads. Google is doing fine on the dry and sunny roads of California. Cognitive Technologies will represent on CES the technology for the remaining 98 percent of the world's roads. At our booth you will be able to see a live demonstration of the technology working on snowy roads, in a storm and in a thunderstorm, with interrupted or hidden-under-the-snow markings. A special show will be organized for farmers. We will also present a separate recognition of small details of cars - headlights, mirrors, car plates etc.
We will also present our global trend for 2018 - the concept of Low Level Data Fusion. This is our technology that combines data from several operating systems and sensors: neural networks, data from high resolution image radars and cameras.
This technology allows the computer vision model to efficiently use all the combined data coming from various sensors to the computing unit. Basically, information taken from each of the sensors is synchronized and reduced to one single coordinate system. The "raw" data goes to computer, where it is processed, and then materials from cameras and radars mutually enrich each other.
This integration of data from different devices makes it possible to fill the missing information for better understanding of the current road scene. Cameras, for example, correctly recognize objects in 80 percent of cases, additional data from radar raises the detection accuracy to 99 percent and higher.
Complex use of all data allows to combine information about the speed, type of the object and distance to it, its location and physical characteristics. The implementation of this Fusion technology alone will reduce the accident rate of autonomous vehicles up to 25 percent.
What do you hope to see at CES from others, are you looking for any opportunities?
At CES we are looking forward to seeing some compact and productive information processing solutions that could be placed on the vehicles. We also want to see new solutions for car cameras that will help us improve the quality of our system on the roads. Basically, we are interested in any systems that will ensure a comfortable stay for the passenger and a driver during the autonomous driving in a traffic jam. We also hope to perhaps see something completely new, something that we couldn't even imagine has already been created. From CES you always expect a miracle!
This Q&A has been edited for brevity and clarity.
Update 01/12 12 p.m. Eastern time: An earlier version of this story said that Cognitive Technologies worked on image and voice recognition for Yandex. This has now been clarified.