'Star Trek: The Next Generation' Alexander Actor Tragically Dies
Jon Paul Steuer died of unconfirmed causes on New Year's Day.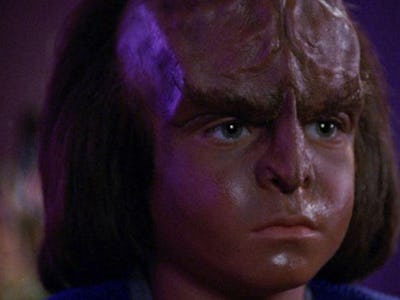 Paramount Television
Punk rocker and former child actor Jon Paul Steuer, perhaps best known for his role as the young Klingon Alexander Rozhenko on Star Trek: The Next Generation, died of unconfirmed causes on Monday, January 1, at age 33. Steuer's friends and P.R.O.B.L.E.M.S. bandmates announced his passing on the band's Facebook page on Wednesday, writing, "It is with heavy hearts and saddened minds that we announce the passing of our dear friend and singer Jonny Jewels, AKA Jon Paul Steuer."
Steuer was the first young actor to portray Alexander, Lieutenant Worf and K'Ehleyr's son, on TNG. Though he only played Alexander in a single episode of the series, Season 4's "Reunion," Steuer still marks the first actor to take on the role; Alexander was later portrayed by Brian Bonsall, Marc Worden, James Sloyan, and Richard Martinez. According to an interview with Jonathan Frakes (Commander William T. Riker) in a TNG Season 4 DVD special feature, Steuer was probably recast because he "was too shy, not a warrior."
After Star Trek: The Next Generation, Freuer went on to star in the hit ABC sitcom Grace Under Fire from The Big Bang Theory creator Chuck Lorre. Freuer left the series after the first three seasons, quoting struggles with substance addiction, rehabilitation, and relapse. Steuer quit acting after Grace Under Fire, picking up a music career and later opening a vegan restaurant.
In the Facebook post announcing his death, P.R.O.B.L.E.M.S. wrote:
The addition of Jonny to our dysfunctional band family was one of the best choices that we have ever made, and he brought a much needed sense of fun and lightheartedness to everything we did. He was only with us for a little more than a year, but we managed to cram a lifetime of great experiences into his tenure as our singer: dozens shows at home in Portland and across several states, an amazing European tour, and our best full-length release yet.
We've lost our singer, but far, far more than that we've lost a friend. Rest in peace, Jonny…we love you.