How "Uber for Snow Plow" Apps are Dealing with 2018's First Blizzard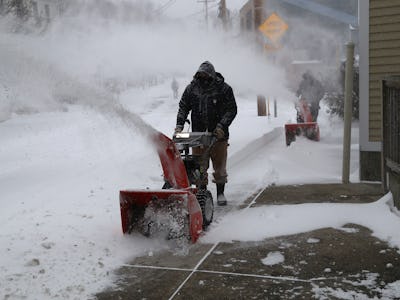 Getty Images / John Moore
Too cozy to go out to shovel today? There's there's an app for that, of course.
With the massive Bomb Cyclone hitting the East Coast throughout Thursday, tech is here to take care of your snow-related needs.
On-demand snow-removal startups like Plowz and Mowz and Shovler have revved up their service for the year's first massive storm.
"We've received thousands of orders today through our app," Wills Mahoney, co-founder of Plowz and Mowz, tells Inverse. The Syracuse, New York-based company already had over 400 trucks in the Boston and surrounding area and expects a record day in orders for plowing.
Unlike Uber, Plowz and Mowz doesn't do surge pricing in response to demand — though the plowing charges are based on the snowfall amount. "So you will pay more for a storm that has over a foot compared to a storm with just six inches of snow, as it takes our providers longer to service the driveway," Mahoney says.
The app, which allows for instant pricing and recently began offering pathway shoveling, plans to come to New York City markets in early 2018.
And the snow and wind has other "Uber for Snow Cleaning" startups busy.
"We are seeing a huge surge in demand today!" a spokesperson for plowing app Shovler tells Inverse, which connects people willing to shovel driveways with those who need them cleared.
"We've also increased our marketing budget for more shovelers to keep up with the demand," the rep adds. "In most storms, shovelers take multiple jobs, but we think in this storm most shovelers may be maxed out after just a few."
To accommodate demand, Shovler's pricing algorithms automatically adjust the prices based on factors such as snow depth and the size of the properties. "We have made some tweaks to the pricing today though, due to the extremely cold temperatures and strong winds," the company says.
Like cab-hailing apps' surge pricing, the pay for cleaning heavy snow in the winter is meant to incentivize shovelers on the app to go out and make quick cash.
In turn, users have been tipping very nicely during the storm. The average tip size for the day has been around 20 percent, according to Shovler, which the contractors deservingly keep all of.
"Chore doing" startups like Plowz and Mowz do offer other services, like leaf blowing, during non-snowy seasons. Shovler, however, focuses solely on snow removal, so the platform relies on professional landscaping businesses to ensure they can always provide service during the winter.
"We also have university students, for example, that only shovel snow to earn extra money on the side," the company says. "It's a great side hustle for anyone that is interested in making some extra money and helping out their neighbors."