'Black Panther' Is Getting a Soundtrack Album Produced by Kendrick Lamar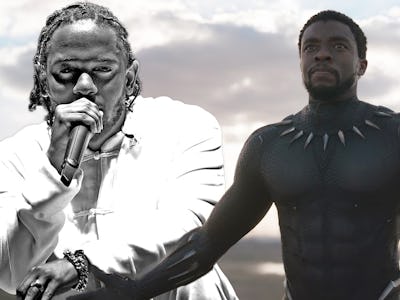 Getty/Marvel
Black Panther looks amazing, but it also sounds incredible, as the first two trailers featured the booming musical talents of Run the Jewels, Vince Staples, and a little bit of Gil Scott-Heron. It's only going to get better, as on Thursday news broke that the MCU movie is getting an accompanying album of music from and inspired by the film, produced by Kendrick Lamar. The announcement also came with the release of the LP's first single, a moody Kendrick track featuring SZA titled "All the Stars."
Unlike the songs that scored the earlier trailers, Run the Jewels's "Legend Has It" and Staples's "BagBak," Lamar's contribution isn't as action-packed. Instead, it's a somewhat dreamy sounding track that seems to address T'Challa's role and responsibilities as a king rather than his ass-kicking abilities. Folks, it's good.
Lamar, whose 2015 album To Pimp a Butterfly ended up at the top of many critic's Best Album of the Year lists, is a good fit for Black Panther. When he released the music video for "LOVE" in December, fans noticed what looked like an Easter egg teasing his involvement in the Black Panther soundtrack. Thursday's announcement made it official, but even before that, he and T'Challa had a history. Lamar's song "DNA" scored an exclusive San Diego Comic-Con trailer last summer.
"The lyrics are amazing — a lot of Kendrick's are," director Ryan Coogler said of the track's inclusion, according to the Los Angeles Times. "It's actually oddly literal for our trailer's purposes — and I think a lot of the cultural things we're dealing with in Wakanda are in the zeitgeist in the African American community."
"Marvel Studios' Black Panther is amazing, from its cast to its director. The magnitude of this film showcases a great marriage of art and culture," Lamar said in a statement announcing his involvement on the soundtrack. "I'm truly honored to contribute my knowledge of producing sound and writing music alongside [director Ryan Coogler] and Marvel's vision."
Black Panther: The Album does not have a release date yet, but the movie will hit theaters on February 16, so it's probably safe to assume the record will be out before or around then.