To 'Attract Young Clients,' Apartment Accepts Rent in Bitcoin
You really can pay rent with bitcoin.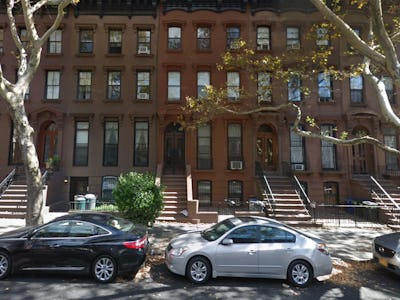 Brooklyn renters looking for a picturesque brownstone in the Fort Greene neighborhood were surprised to learn they could pay for their new new digs with bitcoin. That's right, you can use the cryptocurrency that everyone and their dog is now investing in to put down a payment on an apartment.
As bitcoin began its rapid rise in the last few months, the aforementioned listing's real estate broker, Ari Weber, saw an opportunity: accepting the cryptocurrency as a form of rental payment.
Real estate is predicted to be on the forefront of cryptocurrency use, and Weber, the owner of New York City-based Brookliv brokerage, agrees.
"We are doing something to attract young clients," Weber tells Inverse. "I was asked recently if we accept bitcoin, and so we quickly built the backend to accept bitcoin for rental deposits."
The decision to start accepting the crypto giant came only a few weeks ago, and was put into action swiftly.
Among a sea of real estate firms catering to renters in the city, Weber sees bitcoin as a way to stand out in a crowded market. The bitcoin integration is just one part of a system to create a seamless real estate experience in today's on-demand economy. Weber and his team are already well-versed in tech and automation within Brookliv's operations, which include bot-booked showings of listings.
When asked what would happen if bitcoin eventually "crashes," Weber doesn't seem too worried. Now that the currency has stabilized, on average, around $13,500, he doesn't think using it for purchases is a big risk.
"We can take a little bit of a hit if it does dip, but it's worth it," Weber says.
So far, Brookliv has already accepted deposits via bitcoin wallets from three tenants in the past few weeks.
The company is part of a new wave of bitcoin-accepting real estate firms. Platforms like ManageGo, an online rental payments system, has began allowing property managers to accept multiple cryptocurrencies like bitcoin, Litecoin and ethereum. It does this by converting the rent payments to U.S. dollars and then depositing into their bank accounts.
"The market is changing, whether we like it or not," Weber says. "We foresee the norm will be cryptocurrencies being used for rental market and beyond in the near future."