Who Will Win Cincinnati Bengals vs. Baltimore Ravens? A.I. Predicts
The Ravens will make the playoffs... probably.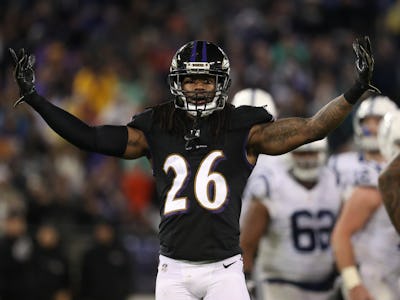 Getty Images / Rob Carr
The Baltimore Ravens are a game up on their competitors for AFC wild card spots at 9-6, meaning they may not even have to beat the Cincinnati Bengals to make the playoffs. But if they want to avoid some heartburn, best to beat a Bengals team likely just ready for the season to be over. A hive mind of about 30 NFL fans predicts the Ravens will win.
If the Ravens do win and finish 10-6, they are the number five seed and are set to play the Kansas City Chiefs in the first round. Even a loss won't destroy their chances, though, as the Ravens make the playoffs one way or another in 27 of 30 possible combinations of results for the AFC games with playoff implications. Basically, the only way the Ravens drop out is if they lose and both the Tennessee Titans and Buffalo Bills win. If the Bengals want any revenge on the Ravens for handing them a 20-0 season-opening loss in Cincinnati, they could make the final stage of the playoff race seriously intriguing. Otherwise, Baltimore is just a solid wild card team headed back to the playoffs.
To predict the result of this and other games, Unanimous A.I. used what's known as swarm intelligence to forecast the week's slate. About 30 NFL fans worked together as a hive mind to make picks. As you can see in the animation below, each participant controlled a little golden magnet and used it to drag the puck toward the answer they thought was the most likely outcome. As the users saw the puck move toward a particular outcome, it triggers a psychological response. They readjust their decision-making, building toward a consensus. Here's Unanimous A.I. founder Louis Rosenberg explaining swarm intelligence at a recent TEDx Talk.
Unanimous A.I. has made some scarily accurate predictions in the past using swarm intelligence, as our previous article explains. For instance, the swarm went a perfect 7-0 in its most recommended picks for an English Premier League slate earlier this season.
The hive mind predicts the Ravens will win with high confidence and 83 percent accuracy.
The swarm likes the Ravens to win by seven to nine points, with 78 percent brainpower behind that pick. The Vegas line has the Ravens by 9.5 points.
The game kicks off 4:25 p.m. Eastern Sunday on CBS.