Who Will Win Arizona Cardinals vs. Seattle Seahawks? A.I. Predicts
The Seahawks make their final playoff push.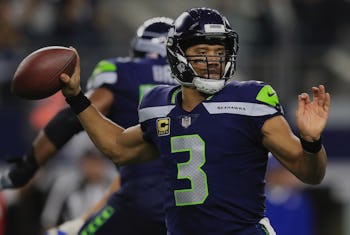 Getty Images / Ronald Martinez
The Seattle Seahawks need a win Sunday to have any shot at the playoffs. The Arizona Cardinals find themselves at a crossroads after a lost season. A hive mind of about 30 NFL fans predicts the Seahawks will win.
The scenario is straightforward enough for Seattle: If they win and the Atlanta Falcons lose, they are in the playoffs. Anything else and they are the NFC's final team eliminated, the first time they have missed the playoffs since Pete Carroll's second season back in 2011. Considering all the injuries the Seahawks have suffered to their legendary defense, even being alive for 10 wins and a playoff berth is an achievement, as much as this is short of expectations. The Cardinals are in worse shape, with the status of coach Bruce Arians entirely unclear and a number of key players potentially moving on from the NFL's most veteran-heavy team. An 8-8 finish would be purely symbolic, but the Cardinals would probably take a symbolic victory at this point.
To predict the result of this and other games, Unanimous A.I. used what's known as swarm intelligence to forecast the week's slate. About 30 NFL fans worked together as a hive mind to make picks. As you can see in the animation below, each participant controlled a little golden magnet and used it to drag the puck toward the answer they thought was the most likely outcome. As the users saw the puck move toward a particular outcome, it triggers a psychological response. They readjust their decision-making, building toward a consensus. Here's Unanimous A.I. founder Louis Rosenberg explaining swarm intelligence at a recent TEDx Talk.
Unanimous A.I. has made some scarily accurate predictions in the past using swarm intelligence, as our previous article explains. For instance, the swarm went a perfect 7-0 in its most recommended picks for an English Premier League slate earlier this season.
The hive mind predicts the Seahawks will win with high confidence and 80 percent brainpower.
The swarm predicts the Seahawks will win by seven to nine points, with 80 percent brainpower behind the pick.
The game kicks off 4:25 p.m. Eastern Sunday on Fox.