Who Will Win Jacksonville Jaguars vs. Tennessee Titans? A.I. Predicts
The Titans face a must-win game.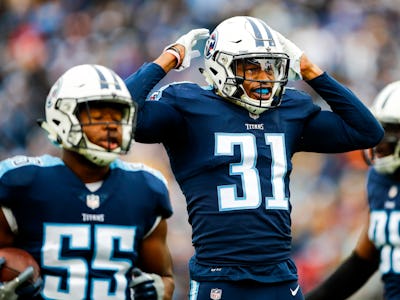 Getty Images / Wesley Hitt
The Tennessee Titans looked set to challenge the similarly upstart Jacksonville Jaguars for the AFC South title, but a late-season skid means they need a victory just to make the playoffs. The Jaguars, meanwhile, are just getting ready for their first playoff game in nearly a decade. A hive mind of about 30 NFL fans predicts the Jaguars will win.
The Tennessee Titans are, along with the Baltimore Ravens, one of two teams who can clinch a playoff spot with a win. There are some scenarios in which they can hold off the Buffalo Bills and Los Angeles Chargers and sneak in at 8-8, but if the Titans want to hold onto any control of their destiny, they need to just get the job done and beat the Jaguars for the second time this season.
While the official word is Jacksonville will play to win, the team has literally nothing to play for, as it's in the third spot in the AFC no matter what, so the only reason for them to play starters is an aversion to rust or a desire to knock the Titans out of the number six spot and avoid a rematch next week. You know, put that way, that almost sounds like a plausible reason to expect the Jaguars to come out and play, though it might not matter: The Titans have lost three in a row and four out of six, so they're officially capable of losing to anyone at this point.
To predict the result of this and other games, Unanimous A.I. used what's known as swarm intelligence to forecast the week's slate. About 30 NFL fans worked together as a hive mind to make picks. As you can see in the animation below, each participant controlled a little golden magnet and used it to drag the puck toward the answer they thought was the most likely outcome. As the users saw the puck move toward a particular outcome, it triggers a psychological response. They readjust their decision-making, building toward a consensus. Here's Unanimous A.I. founder Louis Rosenberg explaining swarm intelligence at a recent TEDx Talk.
Unanimous A.I. has made some scarily accurate predictions in the past using swarm intelligence, as our previous article explains. For instance, the swarm went a perfect 7-0 in its most recommended picks for an English Premier League slate earlier this season.
The hive mind picks the Jaguars to win here, though with low confidence and 79 percent brainpower.
The swarm likes the Jaguars to win by four to six points, with 79 percent brainpower behind the prediction. The Vegas line has the Titans by six points.
The game kicks off 4:25 p.m. Eastern Sunday on CBS.