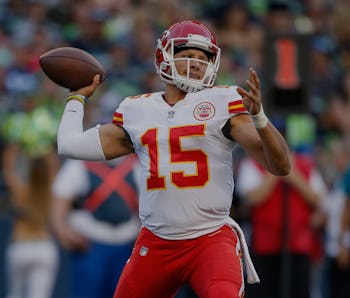 Innovation
Who Will Win Kansas City Chiefs vs. Denver Broncos? A.I. Predicts
It's the Patrick Mahomes Show this week.
Getty Images / Otto Greule Jr
The Kansas City Chiefs are locked into their playoff spot, so it's time to give the rookie quarterback a shot. The Denver Broncos are just ready to be done with this nightmare season. A hive mind of about 30 NFL fans predicts the Chiefs will win Sunday.
The Broncos looked feisty for a couple weeks in snapping their franchise-record eight-game losing streak, but that's about the best that can be said for Denver at this point. The Chiefs tried as hard as they possible could to give their playoff berth away, losing five of six in the middle of the season after a league-best 5-0 start. But a 3-1 run in their last four games has given the Chiefs the AFC West division title and the number four seed in the playoffs, which they're locked into no matter what.
As such, this is a chance to give rookie quarterback and Texas Tech product Patrick Mahomes some time to play, with starter Alex Smith sitting this one out to give his potential replacement an audition opportunity. How much one can really tell from a single game is an open question, but here's a bit of trivia: If Mahomes can get the win, he will be the first quarterback the Chiefs drafted to win a game for Kansas City since Todd Blackledge in September 1987, which is, you know, 30 years ago.
To predict the result of this and other games, Unanimous A.I. used what's known as swarm intelligence to forecast the week's slate. About 30 NFL fans worked together as a hive mind to make picks. As you can see in the animation below, each participant controlled a little golden magnet and used it to drag the puck toward the answer they thought was the most likely outcome. As the users saw the puck move toward a particular outcome, it triggers a psychological response. They readjust their decision-making, building toward a consensus. Here's Unanimous A.I. founder Louis Rosenberg explaining swarm intelligence at a recent TEDx Talk.
Unanimous A.I. has made some scarily accurate predictions in the past using swarm intelligence, as our previous article explains. For instance, the swarm went a perfect 7-0 in its most recommended picks for an English Premier League slate earlier this season.
The hive mind likes Kansas City to win with high confidence, with 75 percent brainpower behind the prediction.
The swarm predicts the Chiefs will win by four to six points, with 82 percent brainpower behind that pick. The Vegas line has Denver by 3.5 points.
The game kicks off 4:25 p.m. Eastern Sunday on CBS.