Who Will Win Oakland Raiders vs. Los Angeles Chargers? A.I. Predicts
The Chargers have one last shot to sneak into the playoffs.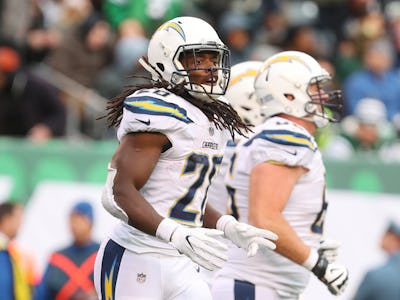 Getty Images / Ed Mulholland
The Los Angeles Chargers have managed to go from 0-4 to still alive for a playoff spot in the NFL's final week. Can they finish their part of the job by beating the Oakland Raiders? A hive mind of about 30 NFL fans predicts the Chargers will win Sunday.
With all due respect to the Oakland Raiders, who are reportedly considering making a serious push to bring Jon Gruden back as their coach even though he last led a team in 2008, let's focus on just what needs to happen for the Chargers to become the second team to go from 0-4 to the playoffs, joining the 1992 San Diego Chargers. This is going to come way more down to the wire than that eventually 11-5 squad, but here goes: First, obviously, the Chargers need to beat the Raiders. Then they need to hope one of nine combinations out of a possible 30 break right for them. For instance, if the Baltimore Ravens, Jacksonville Jaguars, and Buffalo Bills beat the Cincinnati Bengals, Tennessee Titans, and Miami Dolphins, then the Chargers or in. Or the Bengals, Jaguars, and Dolphins could win. It's pretty convoluted, but the key detail is that if the Titans beat the Jaguars, the Chargers are out in every scenario.
To predict the result of this and other games, Unanimous A.I. used what's known as swarm intelligence to forecast the week's slate. About 30 NFL fans worked together as a hive mind to make picks. As you can see in the animation below, each participant controlled a little golden magnet and used it to drag the puck toward the answer they thought was the most likely outcome. As the users saw the puck move toward a particular outcome, it triggers a psychological response. They readjust their decision-making, building toward a consensus. Here's Unanimous A.I. founder Louis Rosenberg explaining swarm intelligence at a recent TEDx Talk.
Unanimous A.I. has made some scarily accurate predictions in the past using swarm intelligence, as our previous article explains. For instance, the swarm went a perfect 7-0 in its most recommended picks for an English Premier League slate earlier this season.
The swarm predicts the Chargers will win with high confidence and 81 percent brainpower behind the pick.
The hive mind predicts the Chargers will win by seven to nine points, with 79 percent brainpower behind that choice. The Vegas line has the Chargers by 7.5 points.
The game kicks off 4:25 p.m. Eastern Sunday on CBS.