Who Will Win Cleveland Browns vs. Pittsburgh Steelers? A.I. Predicts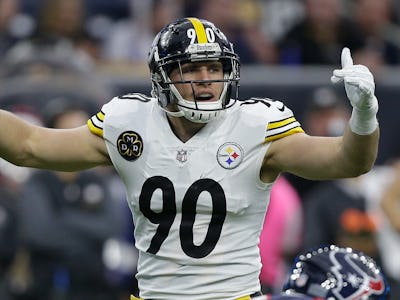 Getty Images / Bob Levey
The Pittsburgh Steelers still have a little to play for but are resting starters ahead of the playoffs. The Cleveland Browns have to somehow beat a 12-3 team to avoid going 0-16. A hive mind of about 30 NFL fans predicts the Steelers will win Sunday.
Which, I mean, yes, obviously. Even with backup Landry Jones reportedly starting in place of Pittsburgh quarterback Ben Roethlisberger, there just doesn't feel like there's a plausible path for a Browns team that has seriously lost the plot as the season has gone on. What once looked like a young team with potential is now on the verge of somehow being worse than last year's 1-15 squad. For the Steelers, a win here would give them at least an outside shot of nabbing home field advantage from the New England Patriots, should Tom Brady and company suffer an upset to the New York Jets. As such, even if this isn't a totally full-strength Steelers team, it's still one that should want to win. Good luck, Cleveland.
To predict the result of this and other games, Unanimous A.I. used what's known as swarm intelligence to forecast the week's slate. About 30 NFL fans worked together as a hive mind to make picks. As you can see in the animation below, each participant controlled a little golden magnet and used it to drag the puck toward the answer they thought was the most likely outcome. As the users saw the puck move toward a particular outcome, it triggers a psychological response. They readjust their decision-making, building toward a consensus. Here's Unanimous A.I. founder Louis Rosenberg explaining swarm intelligence at a recent TEDx Talk.
Unanimous A.I. has made some scarily accurate predictions in the past using swarm intelligence, as our previous article explains. For instance, the swarm went a perfect 7-0 in its most recommended picks for an English Premier League slate earlier this season.
The hive mind predicts the Steelers will win with high confidence and 94 percent brainpower.
The swarm predicts Pittsburgh will win by 10 to 12 points, with 84 percent brainpower behind that choice. The Vegas line has Pittsburgh by 14 points.
The game kicks off 1 p.m. Eastern Sunday on CBS.