Who Will Win Houston Texans vs. Indianapolis Colts? A.I. Predicts
Could this be the end of the line for both coaches?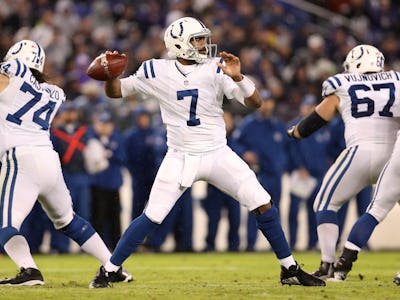 Getty Images / Patrick Smith
The Houston Texans and Indianapolis Colts are playing out the string on lost seasons, both undone by injuries to star quarterbacks. Both coaches could need a win here if they hope to come back, and even that might not be enough. A hive mind of NFL fans predicts the Texans win Sunday.
For Colts coach Chuck Pagano, this surely has to be the end of the line, considering he has been there six seasons and has missed the playoffs in the past three, with a pair of 8-8 campaigns before this 3-12 mess. But it's a little surprising he has hung on this long, so don't rule out a miracle return if he pulls off an inspiring victory over the team's AFC South rivals and can make the case things will right themselves with Andrew Luck's eventual return. As for the Texans, Bill O'Brien has struggled to get anything going on offense without a star quarterback, and the practice injury to breakout rookie Deshaun Watson ruined what could have been a seriously intriguing season. He has a better chance to be back, but a dispiriting loss and last-place finish in the division is best avoided.
To predict the result of this and other games, Unanimous A.I. used what's known as swarm intelligence to forecast the week's slate. About 30 NFL fans worked together as a hive mind to make picks. As you can see in the animation below, each participant controlled a little golden magnet and used it to drag the puck toward the answer they thought was the most likely outcome. As the users saw the puck move toward a particular outcome, it triggers a psychological response. They readjust their decision-making, building toward a consensus. Here's Unanimous A.I. founder Louis Rosenberg explaining swarm intelligence at a recent TEDx Talk.
Unanimous A.I. has made some scarily accurate predictions in the past using swarm intelligence, as our previous article explains. For instance, the swarm went a perfect 7-0 in its most recommended picks for an English Premier League slate earlier this season.
The hive mind predicts the Texans will win, albeit with low confidence and 78 percent brainpower.
The swarm predicts the Texans will win by one to three points, with just 70 percent brainpower behind that pick. The Vegas line actually favors the Colts by four points.
The game kicks off 1 p.m. Eastern Sunday on CBS.