Neil deGrasse Tyson Tweeted A Major Dad Joke For Christmas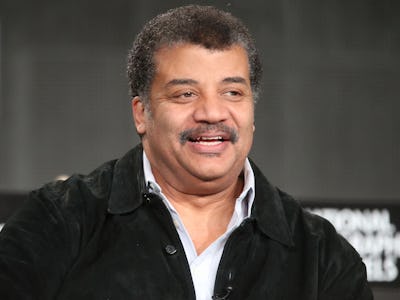 Getty Images / Frederick M. Brown
The internet's favorite science dad tweeted the dadliest of jokes this Christmas Eve. I mean, we'd expect nothing less, but still.
Tyson is sort of infamous for his semi-buzzkill social media presence, and if his twitter proves anything, he's staying on brand throughout the holidays.
"Merry Christmas to the world's 2.5 billion Christians," the astrophysicist tweeted out to his 11 million followers Sunday. "And to the remaining 5 billion people, including Muslims Atheists Hindus Buddhists Animists & Jews, Happy Monday."
[Insert sad pun drum noise here.]
The tweet quickly garnered almost 63,000 retweets in less than 24 hours. His fans had some fun with their responses.
Because he has little to no chill, Tyson didn't stop there. On Monday, he sent off a snarky follow-up tweet about celebrities "actually" born on Christmas:
Okay, we get it, Neil. We really do. You proved your point.
At least Tyson's series of Christmas tweets seem to have ended on a lighter, more science-y note.
When you think about that tally, the song takes on an almost nightmarish quality. I'm fine with the birds, but 140 humans? NO THANK YOU.
Neil, if you're reading this, it's time to stop with the Christmas tweets. Please. You're great, but maybe just play some ping pong or play board games or do literally anything else. We're begging you.
On that note, happy Monday!