Prepare for Hulu's 'Animaniacs' Reboot by Streaming the Original Episodes
Yakko, Wakko, and Dot are comin' back.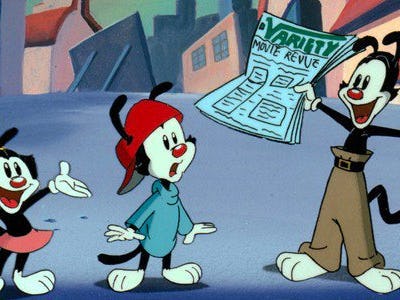 Warner Bros.
Kids cartoons in the '90s were really, really weird, and Animaniacs might've been the most buck-wild of them all, give or take a Ren & Stimpy or Rocko's Modern Life. Now Hulu has announced that it is rebooting the strange anthology cartoon series that featured the likes of Yakko, Wakko, Dot, Pinky, the Brain, and many more.
Hulu announced the revival on Thursday, though new episodes of the rebooted series aren't expected to premiere on the streaming service until 2020, so you have plenty of time to prepare yourself. Good thing, then, that Hulu struck a deal with Warner Bros. giving them exclusive access to all 99 episodes of the original Animaniacs and all the spin-off shows, like Pinky and the Brain and, Pinky, Elmyra and the Brain. They've also got Tiny Toon Adventures, which is kinda cool.
Steven Spielberg — yes, that Steven Spielberg — will return as the show's executive producer for the two upcoming new seasons. In a press release, Hulu described Animaniacs as an "iconic family friendly cartoon franchise," which is rich when you think about it. I mean, this was a "children's" cartoon which had a pretty explicit joke about getting to third base with Prince.
"I am so pleased and proud that Animaniacs will have a home at Hulu," Spielberg said in a statement. "Together with Warner Bros., we look to bring new audiences and longtime fans into this wild world of Yakko, Wakko, and Dot. I am also excited that the full library of Animaniacs and Tiny Toon Adventures episodes are included in the deal."
Maybe we'll get an official updated version of "Yakko's World" in 2020.
Catch up with the old Animaniacs right here on Hulu. Come join me in the warmth of nostalgia in these trying times, '90s kids. Together, we can be free from want and worry, if only for a fleeting moment.