6 Biggest Takeaways from the Reveal of Magic Leap's Mixed-Reality Goggles
They're real-life goggles.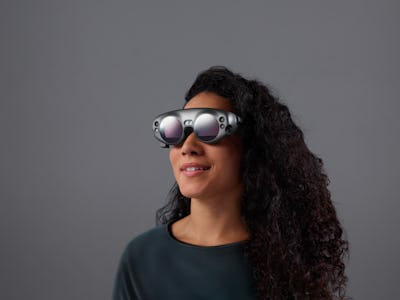 Magic Leap
After years of vague sneak peeks and at least $1.8 billion in funding to date, the wearable technology startup Magic Leap finally revealed what it's been working on.
The Florida-based mixed reality startup, founded back in 2011 by biomedical entrepreneur Rony Abovitz, released Wednesday the first images and specs for the mixed-reality goggles it hopes will alter how people and computers interact. The company says it hopes to release the product, called Lightwear, in 2018.
As explained in a lengthy Rolling Stone feature story, the goggles use a connected pocket-sized computer to render moving objects — including virtual people — directly into people's visual field. If Magic Leap can do what Abovitz hopes, it could be the tech that finally unlocks augmented and virtual reality. That's why they're mixed-reality glasses, after all.
The full Rolling Stone story gives an extensive history and background of everything Magic Leap. Here are the five biggest takeaways from the big reveal.
Despite any rumors to the contrary, they really are goggles
Magic Leap has been so secretive that it wasn't until this week that anyone outside the company knew for sure what they were working on. Some investigative guesswork in 2014 suggested they were working on what Gizmodo described as "Google Glass on steroids," but a 2016 report cast doubt on whether the company was really going to be deliver a mixed-reality wearable. The Rolling Stone story indicates that's exactly what Magic Leap has made.
"Unlike the opaque diver's masks of virtual reality – which replace the real world with a virtual one – Magic Leap's device, called Lightwear, resembles goggles, which you can see through as if you're wearing a special pair of glasses," the article explains.
It works by making the brain work smarter, not harder
The key insight, according to Abovitz, is that the brain takes in way more visual information than it needs to render a mental image. Before this, those trying to create virtual realities assumed they had to feed in a massive, impractical amount of information to get the brain to recognize an artificial light field. Realizing Magic Leap could successfully approximate an image with only a fraction of the input is what made the goggles feasible.
"Our thought was, if we could figure out this signal and or approximate it, maybe it would be really cool to encode that into a wafer," he says. "That we could make a small wafer that could emit the digital light field signal back through the front again. That was the key idea."
Magic Leap hates 3D
Abovitz has little time for 3D technology, calling it a "cockroach" that people keep trying to make work, despite the fact it has repeatedly failed to catch on. Magic Leap's take on mixed-reality is meant to represent a definitive break from 3D, which he argues is all based on the same basic stereoscope design. from 1838.
"It's sort of distressing to me," Abovitz says. "It's from the 1800s, but it keeps reappearing. It showed up in the red-and-blue glasses in movies theaters. It showed up in the Sixties, [through the] 2000s. When VR was coming back again, it's like the same thing; It's like we're still using this same idea."
Magic Leap's big breakthrough came with a single pixel
The company told Rolling Stone the big breakthrough came in 2014, but before then the Magic Leap team had a rough time proving their post-3D theory of mixed reality.
"The first real moment, which no one will care about, is when we had a pixel, and we were using a joystick, and we are just moving a pixel around the room," Abovitz says. "It was like Pong in 1970 or something. Well, less sophisticated than Pong. It was just a little dot that we were moving around the room and it was like, 'Whoa, did we just do that?'"
Lightwear could be the birth of a fundamentally new technology
Despite taking about four years to develop, Magic Leap is said to be groundbreaking on the mixed reality scene. So much so, some researchers believe the technology could be "as significant as the birth of the Internet."
This "is moving us toward a new medium of human-computing interaction," said David Nelson, creative director of the MxR Lab at USC Institute for Creative Technologies. "It's the death of reality."
The Lightwear has an entire computer inside
According to the company, the goggles will come in two sizes, and are as powerful as a laptop. Furthermore, "the forehead pad, nose pieces, and temple pads can all be customized to tweak the comfort and fit."
The headband holding the goggles in place uses a "crown temple" design to distribute weight evenly, making the eyewear extremely light. And whenever they are released, Magic Leap will build in prescription lenses for glasses wearers.
The Lightwear is set to be released sometime in 2018, according to Magic Leap.