These Military-Grade, Tactical Flashlights Will Light Up Your Life
Shedding light on what's before you for only $20.
by Inverse Loot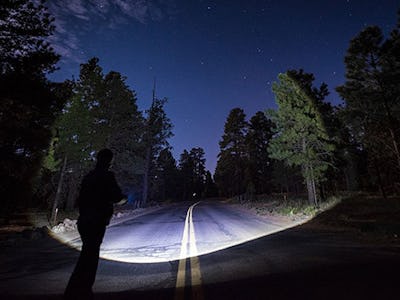 stacksocial
True explorers are not afraid of the dark, or at least that's what they claim. But the real reason behind their fearlessness is that they know they have the right set of tools to use once disaster strikes.
When your truck breaks down in the middle of an isolated highway, when the weather is making it hard for you to build a fire pit, or when you're forced to navigate a new trail at dusk, you should have a robust flashlight in hand.
Powered with 500 lumens and an adjustable zoom that provides up to one mile of range, the UltraBright Tactical Military Flashlight is all you need to get out of sticky situations. It provides several light modes you can use for different scenarios: bright for everyday use, lower bright for when you need to save power, and SOS for emergency cases. And thanks to its wide working voltage, this illuminator can combat darkness for hours on just a single AA battery!
If you're planning on going off the beaten path for an adventure, make sure to carry it along with you. It comes with a sturdy carry-on case, perfect for lugging around anywhere you go.
Normally, you'd have to shell out $100 to get two of these powerful flashlights, but Inverse readers can get a pair for only $20 — a whopping 80 percent discount.