The Remo+ DoorCam Is Good for Home Security But Amazing for Cat Videos
Smart home startup Remo+ recently launched a wireless, Wi-Fi-enabled camera.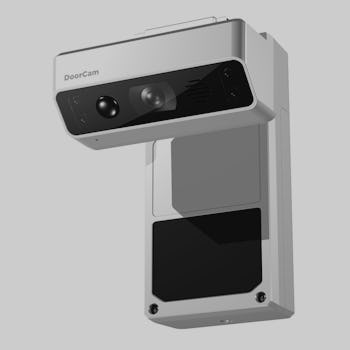 Remo+
Home security cameras have been around for quite some time, but the smart, WiFi-enabled category is still in its infancy.
While well-known brands — such as the Nest cam — have become ubiquitous with home security, setting them up can seem intimidating to most of us.
Enter Remo+.
The startup recently announced the launch of its newest addition to its smart home product lineup, dubbed DoorCam, available at remoplus.co for $199. As the world's first wireless, over-the-door smart security camera, DoorCam is Wi-Fi-enabled and can be easily propped over any swinging indoor or outside door.
The best part may be DoorCam's real-time and recorded HD video, which is arguably superior in quality to most security cameras on the market. While a gadget like the DoorCam can't totally eliminate the chances of break-ins, the company wants to make it easy and affordable for homeowners to track those in and around their property.
Like with everything else, an active pet is often the best way to test a product. And so, I enlisted my good friend and local cat mom Anne to help give the Remo+ DoorCam a test run at her walk-up apartment in Park Slope, Brooklyn.
Setting up the camera was as simple as downloading the Remo+ app and pairing the camera with it. From there, all we needed to do was to place the camera over any door for some action.
The DoorCam camera is said to be built for accuracy, using a sensor to distinguish between humans, animals, passing leaves or rain on the lens. When someone or something approaches a user's door, DoorCam will send a push notification to the their smart device allowing them to view the footage live in 720p HD video. Similar to an intercom system, you can communicate with the visitor via full duplex audio or watch the recorded footage at any time in the app.
After some initial shots of the street and passersby outside, we agreed that the camera would make for a detailed, high-quality security feed. From there, we decided to use it for important security purposes: spying on Anne's hilarious cat, Ocho Cinco.
As the Remo+ app shots show, the camera picked up all the apartment's activities and recorded them in HD and night vision, including a 1 a.m. curious feline rustle.
"The camera itself is good quality, but the app's UX isn't amazing at the moment," Anne texted me during the test run. "For example, if you want to make changes to any settings, you can't do it remotely." Understandably, you do have to click the physical button on the camera to confirm changes being made, for security reasons.
Another user note was the need to modify DoorCam's high sensitive settings according to the cat's daily activities. Because you have to do this with the camera, you need to remember to update the settings while you're home and not at work.
"It would also be easier if there was a quick way to turn it off remotely, or at least turn it off from my phone," Anne noted. This would be of use in case you have someone over and don't want the visit recorded — for anti-creep reasons, if nothing else.
Besides the initial learning curve, the camera does its job of providing an easy-to-use home security system. For those looking for a budget-friendly, wire-free experience, the Remo+ DoorCam makes for a simple setup and use.
For a full rundown of the DoorCam's features, check out the Remo+ site.