What's All the Fuss Over Romanian Father's Day?
Romanians were the last in the EU to give dads a national holiday, and they're OK with that.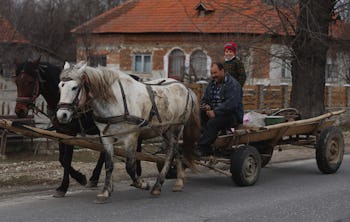 Getty Images
If you've been celebrating Father's Day since before you could even pronounce it, consider the poor papa Romanians when you give your dad a firm handshake and a "thanks for being you" this weekend.
After what one can only assume is a long and tragic history of paterfamiliar neglect, in 2010 Romania became the last EU nation to officially adopt Father's Day as a national holiday, on the [second Sunday in May](http://www.timeanddate.com/holidays/romania/father-day. Romanian dads can finally get the patented respect of a former-Eastern Bloc country they deserve when their families sit down to some delicious home-cooked mititei and sarmale on their special day. 
The Father's Day initiative in Romania seems to come from the tireless energy of a semi-obscure NGO called TATA, translated as the "Alliance Fighting Discrimination Against Fathers," who, according to a journalist at an English-language Romanian newspaper I contacted, "convinced a group of MPs in 2010 about the importance of this law, and then had the MPs pass the law." But she then reassured me the holiday is "not a big thing here." Another Romanian journalist I asked told me, "I've heard about it, but honestly I don't know anybody celebrating it." This was not the big groundswell of support I was expecting.
So who is this TATA, and why the push for a Father's Day? We didn't get a response back from them, so we had a look at their website, which is in Romanian, and Google Translated around to get some answers. Are these the real answers? Maybe not, but they're funny anyway, so full steam ahead:
Besides the name of the NGO being translated as the "Antidiscrimination Alliance of All Dads," and the header of the site accented by this mistranslated gem of a quote stating, "Dude state! Do not embarrass judiciary fathers; It's more sacred than yours," that's attributed to everyone's favorite Ionian philosopher, Pythagoras, the rest reads as fairly aggro.
The "About TATA" section of the site translates in part to "TATA is a nongovernmental, nonpolitical, nonprofit, founded by dads who want to be equal with the mothers of their children in society, to the authorities of any kind and under the law, which is dedicated to the rearing of their children, who understand how important the role of the father in the life of their child," and continues on from there in about the way you'd expect it would.
A personal favorite is an entry under the "Coverage" section asking, "After the divorce, who it's better to remain child, mother or father? Answer majority of lawyers to journalists, commentators from mothers to amateurs, is 'mother' as long as it can not be accused of immorality or child abuse," and continues, "Against this majority response organizations were established to protect the rights of fathers, have made inquiries among the population, analysis, statistics, comparisons between new and 'more civilized world.'" But the piece de non-sensical resistance is, "There is no title of honor, a prize 'the best father' offered in competition between you and partner." Make of it what you will.
It all seems like a pretty intense reaction born out of some angry Romanian dad who lost custody of his kids and set out to make sure the whole world — but really just a bunch of of people in Romania — know about it by forming into an aggressively pro-dad group. Either way, happy Father's Day, belatedly, to all the Romanian dads out there, even as you barely care that we care so much.