Who Will Win Oakland Raiders vs. Philadelphia Eagles? A.I. Predicts
The Eagles look to win the NFC, the Raiders look to survive.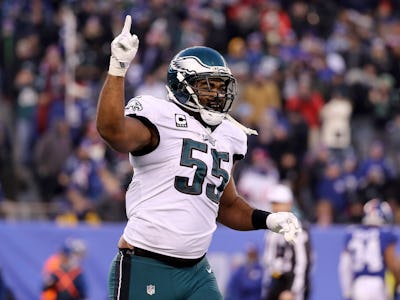 Getty Images / Elsa
The Philadelphia Eagles are in position to win the NFC and secure home-field advantage through the conference championship game. The Oakland Raiders are trying to keep the faintest ember of playoff hope alive. A hive mind of about 30 NFL fans predicts the Eagles will win.
Philly has so far weathered the season-ending injury to quarterback and MVP candidate Carson Wentz, with backup Nick Foles undefeated in his first two games of action. That has the Eagles sitting at 12-2 and needing only a win Monday to secure the best record in the NFC. As for the Oakland Raiders, they need to win just to stave off elimination from the playoffs. They then also need to win next week, hope the Buffalo Bills and Tennessee Titans lose out, the Miami Dolphins beat the Kansas City Chiefs, and the Baltimore Ravens beat the Cincinnati Bengals. Literally anything else is the end of the line.
To predict the result of this and other games, Unanimous A.I. used what's known as swarm intelligence to forecast the week's slate. About 30 NFL fans worked together as a hive mind to make picks. As you can see in the animation below, each participant controlled a little golden magnet and used it to drag the puck toward the answer they thought was the most likely outcome. As the users saw the puck move toward a particular outcome, it triggers a psychological response. They readjust their decision-making, building toward a consensus. Here's Unanimous A.I. founder Louis Rosenberg explaining swarm intelligence at a recent TEDx Talk.
Unanimous A.I. has made some scarily accurate predictions in the past using swarm intelligence, as our previous article explains. For instance, the swarm went a perfect 7-0 in its most recommended picks for an English Premier League slate earlier this season.
The hive mind predicts the Eagles will win with high confidence and 84 percent brainpower behind the pick.
The swarm likes the Eagles to win by seven to nine points, with 78 percent brainpower behind that pick. The Vegas line has Philly by eight points.
The game kicks off 8:30 p.m. Eastern Monday on ESPN.