Who Will Win Pittsburgh Steelers vs. Houston Texans? A.I. Predicts
The Steelers look to secure a first round bye, with a little help.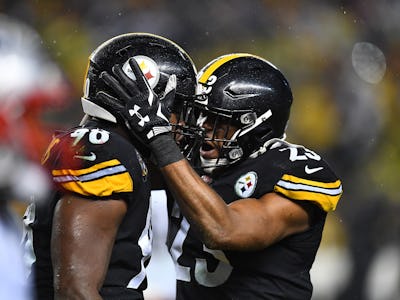 Getty Images / Joe Sargent
The Pittsburgh Steelers feel behind in the race for home-field advantage after last week's loss to the New England Patriots, but they look to keep their playoff positioning as strong as possible with a win this week against the lowly Houston Texans. A hive mind of about 30 NFL fans predicts the Steelers will win Monday.
At 11-3, the Steelers have already clinched the NFC North, but that's about all they directly control this week. All the most promising playoff scenarios depend on other teams losing. For instance, Pittsburgh can get back into first place overall in the AFC with a victory and a shiny new 12-3 record, but only if the Patriots lose as well to drop to 11-4. That's not a clinching scenario, but they can secure a first-round bye if they win and the Jacksonville Jaguars lose. As for the Houston Texans, they would probably just like to complete the game without any more quarterbacks suffering devastating injuries.
To predict the result of this and other games, Unanimous A.I. used what's known as swarm intelligence to forecast the week's slate. About 30 NFL fans worked together as a hive mind to make picks. As you can see in the animation below, each participant controlled a little golden magnet and used it to drag the puck toward the answer they thought was the most likely outcome. As the users saw the puck move toward a particular outcome, it triggers a psychological response. They readjust their decision-making, building toward a consensus. Here's Unanimous A.I. founder Louis Rosenberg explaining swarm intelligence at a recent TEDx Talk.
Unanimous A.I. has made some scarily accurate predictions in the past using swarm intelligence, as our previous article explains. For instance, the swarm went a perfect 7-0 in its most recommended picks for an English Premier League slate earlier this season.
The swarm predicts the Steelers will win with high confidence and 94 percent brainpower behind the pick.
The hive mind predicts the Steelers will win by seven to nine points, a pick made with 77 percent brainpower. The Vegas line has Pittsburgh by 10 points.
The game kicks off 4:30 p.m. Eastern Monday on NBC, the NFL Network, and Amazon Prime Video.