Who Will Win Seattle Seahawks vs. Dallas Cowboys? A.I. Predicts
It's an elimination game!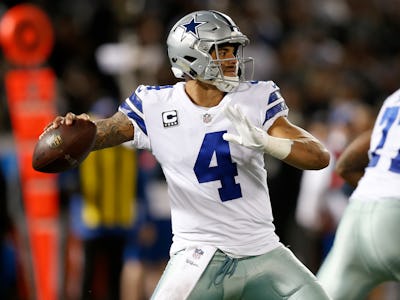 Getty Images / Lachlan Cunningham
The Dallas Cowboys get back suspended running back Ezekiel Elliott for a last-gasp dash at the playoffs, while the Seattle Seahawks are trying to shake off the worst loss in recent memory. Either way, someone is going home for the season. A hive mind of NFL fans predicts the Cowboys will win Sunday.
The Cowboys have failed to live up to the expectations set by last year's charmed 13-3 campaign, but they have never been totally pushed out of the playoff picture. That could end this week, as a loss would knock them or their opponents out of contention for good. The return of Elliott would seem to give Dallas the edge in this de facto elimination game, especially when the Los Angeles Rams may have officially ended this recent Seahawks mini-dynasty with a 42-7 dismantling in Seattle. Both teams are 8-6 in a year where 10 wins is the bare minimum for NFC playoff entry, so someone is headed home… though we admit we haven't looked up what happens if they tie each other.
To predict the result of this and other games, Unanimous A.I. used what's known as swarm intelligence to forecast the week's slate. About 30 NFL fans worked together as a hive mind to make picks. As you can see in the animation below, each participant controlled a little golden magnet and used it to drag the puck toward the answer they thought was the most likely outcome. As the users saw the puck move toward a particular outcome, it triggers a psychological response. They readjust their decision-making, building toward a consensus. Here's Unanimous A.I. founder Louis Rosenberg explaining swarm intelligence at a recent TEDx Talk.
Unanimous A.I. has made some scarily accurate predictions in the past using swarm intelligence, as our previous article explains. For instance, the swarm went a perfect 7-0 in its most recommended picks for an English Premier League slate earlier this season.
The hive mind predicts Dallas will win here, with low confidence and 85 percent brainpower behind the pick.
The swarm predicts the Cowboys will win by four to six points, with 85 percent certainty behind the choice. The Vegas line has Dallas by three.
The game kicks off 4:25 p.m. Eastern Sunday on Fox.