Who Will Win Jacksonville Jaguars vs. San Francisco 49ers? A.I. Predicts
Come on Jaguars, win it all and be legends.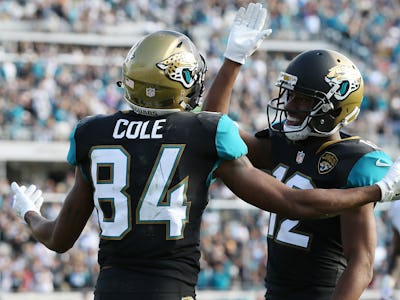 Getty Images / Logan Bowles
The Jacksonville Jaguars can keep their dream season going by messing around and securing home-field advantage through the AFC Championship. The San Francisco 49ers look to play spoilers with breakout quarterback Jimmy Garoppolo. A hive mind of about 30 NFL fans predicts the Jaguars will win Sunday.
The Jaguars have their first winning season, their first double-digit win season, and their first playoff berth since their 11-5 campaign in 2007. But how about their first division title since way back in 1999, before the AFC South even existed. But a still bigger prize is a possibility, as two more Jaguars victories and one loss apiece by the 11-3 New England Patriots and Pittsburgh Steelers would be enough to lock all three teams at 12-4, with Jacksonville holding the tiebreaker that would hand them home-field through the AFC side of the playoff bracket. With Blake Bortles red hot at quarterback, Jacksonville might be up to the task, but don't discount newly arrived 49ers quarterback Jimmy Garoppolo, as the excessively handsome signal caller has been undefeated in three games as San Francisco's starter.
To predict the result of this and other games, Unanimous A.I. used what's known as swarm intelligence to forecast the week's slate. About 30 NFL fans worked together as a hive mind to make picks. As you can see in the animation below, each participant controlled a little golden magnet and used it to drag the puck toward the answer they thought was the most likely outcome. As the users saw the puck move toward a particular outcome, it triggers a psychological response. They readjust their decision-making, building toward a consensus. Here's Unanimous A.I. founder Louis Rosenberg explaining swarm intelligence at a recent TEDx Talk.
Unanimous A.I. has made some scarily accurate predictions in the past using swarm intelligence, as our previous article explains. For instance, the swarm went a perfect 7-0 in its most recommended picks for an English Premier League slate earlier this season.
The swarm predicts the Jaguars will win with high confidence and 80 percent brainpower behind the pick.
The hive mind predicts Jacksonville will win by seven to nine points, with 85 percent brainpower. The Vegas line has the Jaguars by 5.5 points.
The game kicks off 4:05 p.m. Eastern Sunday on CBS.