Who Will Win Los Angeles Chargers vs. New York Jets? A.I. Predicts
The Chargers have run out of margin for error.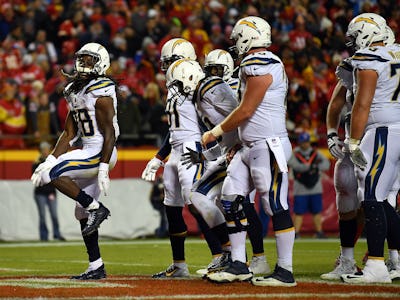 Getty Images / Peter Aiken
The Los Angeles Chargers looked set to pull off the nearly impossible by making the playoffs after an 0-4 start, but recent weeks have reminded us why it's generally impossible. The New York Jets are just ready for their season to end after an injury to unlikely breakout quarterback Josh McCown. A hive mind of NFL fans predicts the Chargers will win Sunday.
Los Angeles isn't entirely eliminated from the playoffs, but their margin for error is officially exhausted. A loss to the Jets would knock them out of playoff contention and leave them at 7-8. Even a win would leave the Chargers in a precarious spot, but they are still technically alive if they can finish 9-7. As for the Jets… yeah, this season has been a tough one. A would-be tank season got off to an unexpectedly hot start with McCown playing the football of his life at 38, but the losses have piled up and a broken hand has the quarterback out for the year. The Jets can play spoiler, but here's hoping the Chargers can keep their impossible comeback bid alive for one final week.
To predict the result of this and other games, Unanimous A.I. used what's known as swarm intelligence to forecast the week's slate. About 30 NFL fans worked together as a hive mind to make picks. As you can see in the animation below, each participant controlled a little golden magnet and used it to drag the puck toward the answer they thought was the most likely outcome. As the users saw the puck move toward a particular outcome, it triggers a psychological response. They readjust their decision-making, building toward a consensus. Here's Unanimous A.I. founder Louis Rosenberg explaining swarm intelligence at a recent TEDx Talk.
Unanimous A.I. has made some scarily accurate predictions in the past using swarm intelligence, as our previous article explains. For instance, the swarm went a perfect 7-0 in its most recommended picks for an English Premier League slate earlier this season.
The hive mind predicts the Chargers will win with high confidence and 83 percent brainpower.
The swarm predicts Los Angeles will win by seven to nine points with 85 percent brainpower behind that choice. The Vegas line has the Chargers by 7.5 points.
The game kicks off 1 p.m. Eastern Sunday on CBS.