Who Will Win Los Angeles Rams vs. Tennessee Titans? A.I. Predicts
The Rams and Titans both have playoff fortunes on the line.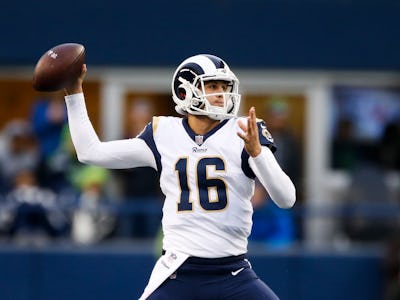 Getty Images / Otto Greule Jr
The Los Angeles Rams look to follow up the statement win to end all statement wins by securing the NFC West title. The Tennessee Titans are just looking to prove they can beat anyone from that blasted division. A hive mind of about 30 NFL fans predicts the Rams will win.
The Rams dismantled the long-dominant Seattle Seahawks on the road last week, beating their divisional foes 42-7. Now a win gets them their first NFC West title since the 2003 St. Louis squad. The Titans look to end a long playoff drought of their own, but their three-week slate against NFC West teams has already seen losses to the lowly Arizona Cardinals and even lowlier San Francisco 49ers. Now they somehow have to upset a red-hot Rams team to stay on track for a return to the playoffs. As Super Bowl reunion games go, this one has some appropriately high stakes.
To predict the result of this and other games, Unanimous A.I. used what's known as swarm intelligence to forecast the week's slate. About 30 NFL fans worked together as a hive mind to make picks. As you can see in the animation below, each participant controlled a little golden magnet and used it to drag the puck toward the answer they thought was the most likely outcome. As the users saw the puck move toward a particular outcome, it triggers a psychological response. They readjust their decision-making, building toward a consensus. Here's Unanimous A.I. founder Louis Rosenberg explaining swarm intelligence at a recent TEDx Talk.
Unanimous A.I. has made some scarily accurate predictions in the past using swarm intelligence, as our previous article explains. For instance, the swarm went a perfect 7-0 in its most recommended picks for an English Premier League slate earlier this season.
The hive mind was initially split between picking the Rams with high and low confidence, ultimately opting for the former with 82 percent brainpower.
The swarm likes the Rams to win by seven to nine points, a prediction made with 83 percent brainpower behind it. The Vegas line has the Rams by 6.5 points.
The game kicks off 1 p.m. Eastern Sunday on Fox.