Who Will Win Denver Broncos vs. Washington? A.I. Predicts
Hey, uh, remember when this was a Super Bowl?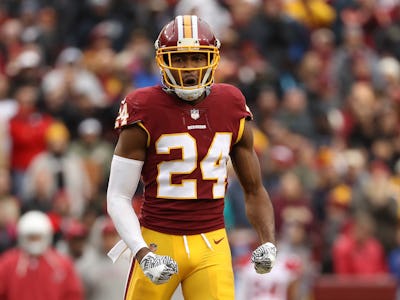 Getty Images / Patrick Smith
We're coming up on the 30th anniversary of the Denver Broncos playing Washington in the Super Bowl. The fact we're talking about that is a good indication of how these two teams' seasons are going. A hive mind of NFL fans predicts Washington will win Sunday.
At 5-9 and 6-8, neither Denver nor Washington is good enough to remain even on the fringes of playoff contention, but they are also not so obviously terrible to really be worth much comment. So, hey, this coming January 31 marks exactly three decades since Washington stomped Denver 42-10, with Super Bowl MVP Doug Williams the first black quarterback to win the title. It was the second of three championships Joe Gibbs would win as Washington coach, all with markedly different personnel, while this was John Elway's second of three losing efforts in the Super Bowl before finally breaking through in the final two seasons of his career. I know, none of this is relevant, but do you want to hear about what either of these teams are up to right now? I didn't think so.
To predict the result of this and other games, Unanimous A.I. used what's known as swarm intelligence to forecast the week's slate. About 30 NFL fans worked together as a hive mind to make picks. As you can see in the animation below, each participant controlled a little golden magnet and used it to drag the puck toward the answer they thought was the most likely outcome. As the users saw the puck move toward a particular outcome, it triggers a psychological response. They readjust their decision-making, building toward a consensus. Here's Unanimous A.I. founder Louis Rosenberg explaining swarm intelligence at a recent TEDx Talk.
Unanimous A.I. has made some scarily accurate predictions in the past using swarm intelligence, as our previous article explains. For instance, the swarm went a perfect 7-0 in its most recommended picks for an English Premier League slate earlier this season.
The swarm predicts Washington will win, though it's a pick made with low confidence and 83 percent brainpower.
The hive mind predicts Washington will win by four to six points, a pick made with 78 percent brainpower. The Vegas line favors them by 4.5 points — though really they ought to win by 32 points to mark Super Bowl XXII's anniversary.
The game kicks off 1 p.m. Eastern Sunday on CBS.