Who Will Win Tampa Bay Buccaneers vs. Carolina Panthers? A.I. Predicts
The Panthers look to make their playoff return.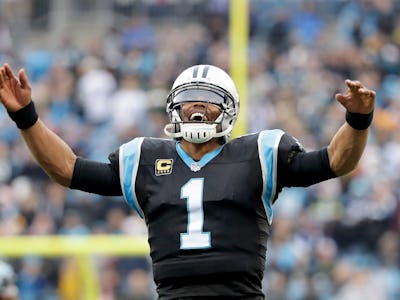 Getty Images / Streeter Lecka
The Carolina Panthers need only win Sunday to secure a playoff spot while their two big NFC South rivals face off in New Orleans. But the odd team out, the Tampa Bay Buccaneers, can look to play spoiler. A hive mind of about 30 NFL fans predicts the Panthers win.
The Panthers are still very much alive for the NFC South title, but they are very much on the undercard of this week's divisional games. The Atlanta Falcons and New Orleans Saints play each other in a game that can trigger all sorts of complicated playoff scenarios, depending on how things shake out. Again, a win here get the Panthers into the playoffs. It also keeps them in the hunt for the division crown, and an Atlanta victory would make their game against each other next week for the entire NFC South. A loss wouldn't be totally disastrous, but still: The lowly Buccaneers have an opportunity to ruin an opponent's day. Let's see if they want to take it.
To predict the result of this and other games, Unanimous A.I. used what's known as swarm intelligence to forecast the week's slate. About 30 NFL fans worked together as a hive mind to make picks. As you can see in the animation below, each participant controlled a little golden magnet and used it to drag the puck toward the answer they thought was the most likely outcome. As the users saw the puck move toward a particular outcome, it triggers a psychological response. They readjust their decision-making, building toward a consensus. Here's Unanimous A.I. founder Louis Rosenberg explaining swarm intelligence at a recent TEDx Talk.
Unanimous A.I. has made some scarily accurate predictions in the past using swarm intelligence, as our previous article explains. For instance, the swarm went a perfect 7-0 in its most recommended picks for an English Premier League slate earlier this season.
The swarm predicts the Panthers will win with high confidence and 92 percent brainpower.
The hive mind predicts Carolina wins by seven to nine points, with 79 percent brainpower behind the pick. The Vegas line has the Panthers by 9.5 points.
The game kicks off 1 p.m. Eastern Sunday on Fox.