Who Will Win Buffalo Bills vs. New England Patriots? A.I. Predicts
Is the AFC East big enough for two playoff teams?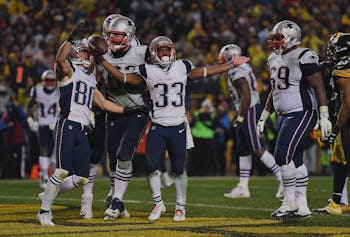 Getty Images / Joe Sargent
The New England Patriots have clinched the AFC East and have the inside track for home-field advantage through the playoffs. The Buffalo Bills have to keep winning if they want to make it in as a wild card. A hive mind of about 30 NFL fans predicts the Patriots will win Sunday.
The Patriots' comeback victory over the Pittsburgh Steelers both clinched their record ninth consecutive division title and meant they just have to win out to ensure their number one overall seed. About the worst thing that can happen to the Patriots down the stretch is they lose their first-round bye — not ideal, but not exactly disastrous. The Bills, on the other hand, are desperate to maintain their narrow path to the playoffs, which is going to involve the right combination of other wild card contenders losing and the Bills ending strong. If they want to end their 18-year playoff drought, they almost certainly need to shock the Patriots on the road.
To predict the result of this and other games, Unanimous A.I. used what's known as swarm intelligence to forecast the week's slate. About 30 NFL fans worked together as a hive mind to make picks. As you can see in the animation below, each participant controlled a little golden magnet and used it to drag the puck toward the answer they thought was the most likely outcome. As the users saw the puck move toward a particular outcome, it triggers a psychological response. They readjust their decision-making, building toward a consensus. Here's Unanimous A.I. founder Louis Rosenberg explaining swarm intelligence at a recent TEDx Talk.
Unanimous A.I. has made some scarily accurate predictions in the past using swarm intelligence, as our previous article explains. For instance, the swarm went a perfect 7-0 in its most recommended picks for an English Premier League slate earlier this season.
Description
The hive mind predicts the Patriots will win by 10 to 12 points, with 81 percent brainpower behind that pick. The Vegas line has the Patriots by 11.5 points.
The game kicks off 1 p.m. Eastern Sunday on CBS.