Who Will Win Tennessee Titans vs. San Francisco 49ers? A.I. Predicts
Could this be a trap game for Tennessee?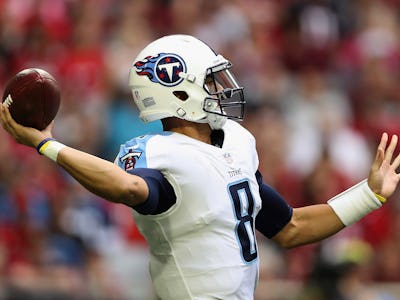 Getty Images / Christian Petersen
The Tennessee Titans have two games against division leaders to end the regular season, including a showdown against the rival Jacksonville Jaguars in the finale, but first they have to take on a bad but feisty San Francisco 49ers team. A hive mind of about 30 NFL fans predicts the Titans will win Sunday.
Still, it's at least worth entertaining the possibility of an upset here. The Titans have made it to 8-5 and a potential playoff berth on the strength of their excellent defense, but the offense has been bad this year, letting the team down sometimes against seemingly inferior competition. With a pair of 9-4 teams in the Los Angeles Rams and the Jaguars still on the schedule, the Titans have a tough road ahead if they want to return to the playoffs for the first time since 2008. And with the 49ers getting a jolt from the addition of recently acquired quarterback Jimmy Garoppolo, they could be in just the right spot to spring a surprise on Tennessee.
To predict the result of this and other games, Unanimous A.I. used what's known as swarm intelligence to forecast the week's slate. About 30 NFL fans worked together as a hive mind to make picks. As you can see in the animation below, each participant controlled a little golden magnet and used it to drag the puck toward the answer they thought was the most likely outcome. As the users saw the puck move toward a particular outcome, it triggers a psychological response. They readjust their decision-making, building toward a consensus. Here's Unanimous A.I. founder Louis Rosenberg explaining swarm intelligence at a recent TEDx Talk.
Unanimous A.I. has made some scarily accurate predictions in the past using swarm intelligence, as our previous article explains. For instance, the swarm went a perfect 7-0 in its most recommended picks for an English Premier League slate earlier this season.
The swarm is surprisingly unsure of the result here, picking the Titans only with low confidence and 73 percent brainpower.
The hive mind predicts the Titans will win by four to six points. The Vegas line actually favors the 49ers by 1.5 points.
The game kicks off 4:25 p.m. Eastern Sunday on CBS.