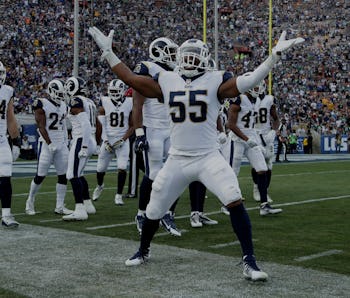 Innovation
Who Will Win Los Angeles Rams vs. Seattle Seahawks? A.I. Predicts
The NFC West is on the line.
Getty Images / Jeff Gross
The season isn't quite over yet, but the race for the NFC West crown will be a whole lot closer to decided Sunday when the Los Angeles Rams head north to take on the Seattle Seahawks. A hive mind of about 30 NFL fans predicts the Rams will win.
The math is simple enough: If the Rams win, they go two games up on the Seahawks with two games to play, meaning at worst for Los Angeles both teams would finish tied at 10-6. That's not quite enough yet to clinch even a playoff spot for the Rams, but it puts them in very good shape down the stretch, especially when they end the season at home against the lowly San Francisco 49ers. If the Seahawks win, on the other hand, the teams find themselves tied at 9-5, with Seattle holding the head-to-head tiebreaker, meaning the Rams no longer control their own destiny in the NFC West. So yeah, this game is big.
To predict the result of this and other games, Unanimous A.I. used what's known as swarm intelligence to forecast the week's slate. About 30 NFL fans worked together as a hive mind to make picks. As you can see in the animation below, each participant controlled a little golden magnet and used it to drag the puck toward the answer they thought was the most likely outcome. As the users saw the puck move toward a particular outcome, it triggers a psychological response. They readjust their decision-making, building toward a consensus. Here's Unanimous A.I. founder Louis Rosenberg explaining swarm intelligence at a recent TEDx Talk.
Unanimous A.I. has made some scarily accurate predictions in the past using swarm intelligence, as our previous article explains. For instance, the swarm went a perfect 7-0 in its most recommended picks for an English Premier League slate earlier this season.
The hive mind is almost split at first, but it ultimately picks the Rams to win with low confidence and just 71 percent brainpower.
The swarm sees the margin here as razor-thin, picking the Rams to win by one to three points, with 84 percent brainpower behind the pick. Vegas has the Seahawks by 2.5 points.
The game kicks off 4:05 p.m. Eastern Sunday on Fox.