Who Will Win New York Jets vs. New Orleans Saints? A.I. Predicts
What chance do the Jets have?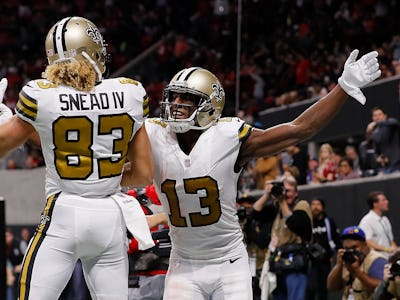 Getty Images / Kevin C. Cox
The New Orleans Saints are undefeated in the Superdome and looking to stay on track for the NFC South title. The New York Jets are forced to start backup quarterback Bryce Petty and have lost seven of nine. Perhaps unsurprisingly, a hive mind of about 30 NFL fans predicts the Saints will win Sunday.
The Saints are heavy, heavy favorites in this one, and it's really hard to see how they avoid the loss if they come out and play even close to their normal potential. While a tough few weeks against good teams has saw the Saints drop a couple games, they remain one of the NFL's most impressive teams at 9-4, and it's at home especially where New Orleans has appeared close to invincible. The Jets scraped together a respectable campaign in part because 38-year-old quarterback Josh McCown had a career year, but a broken hand last week means he's out and Petty is in. The Jets' chances wouldn't have been great with McCown under center. They're considerably worse now.
To predict the result of this and other games, Unanimous A.I. used what's known as swarm intelligence to forecast the week's slate. About 30 NFL fans worked together as a hive mind to make picks. As you can see in the animation below, each participant controlled a little golden magnet and used it to drag the puck toward the answer they thought was the most likely outcome. As the users saw the puck move toward a particular outcome, it triggers a psychological response. They readjust their decision-making, building toward a consensus. Here's Unanimous A.I. founder Louis Rosenberg explaining swarm intelligence at a recent TEDx Talk.
Unanimous A.I. has made some scarily accurate predictions in the past using swarm intelligence, as our previous article explains. For instance, the swarm went a perfect 7-0 in its most recommended picks for an English Premier League slate earlier this season.
The hive mind predicts New Orleans will win with high confidence and 92 percent brainpower.
The swarm predicts the Saints will win by 10 to 12 points, with 85 percent brainpower behind the pick. The Vegas line has the Saints by a bit more than that at a massive 15.5 points.
The game kicks off 1 p.m. Eastern Sunday on CBS.