Who Will Win Miami Dolphins vs. Buffalo Bills? A.I. Predicts
Are the Dolphins peaking at just the right time?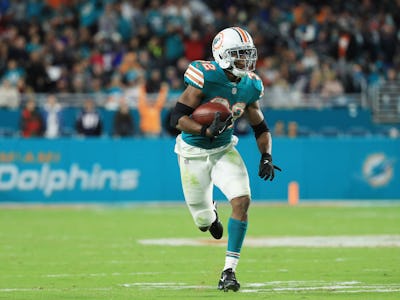 Getty Images / Mike Ehrmann
The Miami Dolphins shocked the New England Patriots last week and still have a chance to sneak into the playoffs at 9-7. The Buffalo Bills look to regain their early season form and end the NFL's longest playoff drought. A hive mind of NFL fans predicts the Bills will win Sunday.
The Bills technically could still win the AFC East thanks to Miami's shocking upset of New England last week, but really both teams are vying for one of the wild card spots. The Dolphins looked lost a couple weeks back when they 4-7, but a couple big wins and some suddenly improved play from quarterback Jay Cutler means Miami has a chance to enter the playoffs as a legitimately scary, if late-blooming team. As for Buffalo, they are probably just hoping not to have to deal with another blizzard or barrage of quarterback injuries in their quest to make the playoffs for the first time this millennium.
To predict the result of this and other games, Unanimous A.I. used what's known as swarm intelligence to forecast the week's slate. About 30 NFL fans worked together as a hive mind to make picks. As you can see in the animation below, each participant controlled a little golden magnet and used it to drag the puck toward the answer they thought was the most likely outcome. As the users saw the puck move toward a particular outcome, it triggers a psychological response. They readjust their decision-making, building toward a consensus. Here's Unanimous A.I. founder Louis Rosenberg explaining swarm intelligence at a recent TEDx Talk.
Unanimous A.I. has made some scarily accurate predictions in the past using swarm intelligence, as our previous article explains. For instance, the swarm went a perfect 7-0 in its most recommended picks for an English Premier League slate earlier this season.
The hive mind predicts the Bills will win, although it's a low confidence pick with just 79 percent brainpower behind it.
The swarm predicts the Bills will win by four to six points, a pick made with 83 percent brainpower. The Vegas line has the Bills by 3.5 points.
The game kicks off 1 p.m. Eastern Sunday on CBS.