Who Will Win Baltimore Ravens vs. Cleveland Browns? A.I. Predicts
Winless watch continues for the Browns.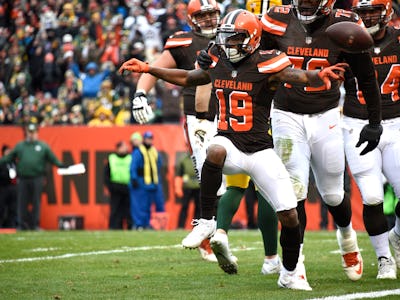 Getty Images / Jason Miller
The Cleveland Browns have just three chances left to avoid the second 0-16 season in NFL history. The Baltimore Ravens need to keep winning to stay on track for a playoff berth. A hive mind of about 30 NFL fans predicts the Ravens will win Sunday.
After last week's loss to the rival Pittsburgh Steelers, the Ravens have about as easy a schedule as one could ask for to end the season, with the underwhelming Indianapolis Colts and Cincinnati Bengals on the schedule after this Sunday's tilt against the Browns. So while this might feel like a trap game, perhaps the better answer is all Baltimore's remaining games are potential traps. This is just the worst one, as the Ravens have to go on the road for the last time in the regular season to take on a Cleveland team desperate to salvage a bit of pride and avoiding joining the 2008 Detroit Lions as the only team to lose all 16 of its games.
To predict the result of this and other games, Unanimous A.I. used what's known as swarm intelligence to forecast the week's slate. About 30 NFL fans worked together as a hive mind to make picks. As you can see in the animation below, each participant controlled a little golden magnet and used it to drag the puck toward the answer they thought was the most likely outcome. As the users saw the puck move toward a particular outcome, it triggers a psychological response. They readjust their decision-making, building toward a consensus. Here's Unanimous A.I. founder Louis Rosenberg explaining swarm intelligence at a recent TEDx Talk.
Unanimous A.I. has made some scarily accurate predictions in the past using swarm intelligence, as our previous article explains. For instance, the swarm went a perfect 7-0 in its most recommended picks for an English Premier League slate earlier this season.
The swarm predicts the Ravens will win with high confidence and 94 percent brainpower.
The hive mind likes the Ravens to win by seven to nine points, with 89 percent brainpower behind that prediction. The Vegas line has the Ravens by seven points.
The game kicks off 1 p.m. Eastern Sunday on CBS.