Who Will Win Chicago Bears vs. Detroit Lions? A.I. Predicts
The NFL returns to Saturdays.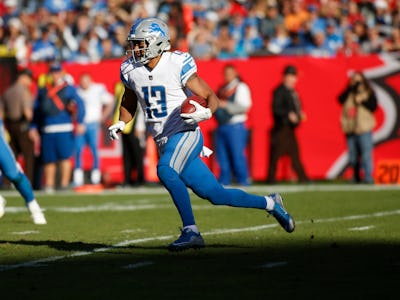 Getty Images / Brian Blanco
With college football preparing for bowl season, the Saturday calendar is once again open to the NFL. Kicking off the pre-Sunday action are the Chicago Bears and Detroit Lions, with the latter looking to keep its slim playoff hopes alive. A hive mind of about 30 NFL fans predicts the Lions will win Saturday.
At 7-6, the Lions have never been more than two games over .500 all season. If they're not quite the platonic ideal of NFL mediocrity this season, they are close to it. Some of that is a talent deficit, some of that is injury, but they just have never really been able to get things going this year. Yet the rival Bears — who have lost eight of their past nine games against the Lions — would love to be in Detroit's place. The firing of head coach John Fox is a foregone conclusion, but it's been so long since the Bears were competent at anything that it's hard to see how this organization lucks into hiring a new coach or new front office good enough to turn this around. The season itself hasn't been horrendous, as bad seasons go, but the long-term prospects are dire. Detroit wins this one in a walk, basically.
To predict the result of this and other games, Unanimous A.I. used what's known as swarm intelligence to forecast the week's slate. About 30 NFL fans worked together as a hive mind to make picks. As you can see in the animation below, each participant controlled a little golden magnet and used it to drag the puck toward the answer they thought was the most likely outcome. As the users saw the puck move toward a particular outcome, it triggers a psychological response. They readjust their decision-making, building toward a consensus. Here's Unanimous A.I. founder Louis Rosenberg explaining swarm intelligence at a recent TEDx Talk.
Unanimous A.I. has made some scarily accurate predictions in the past using swarm intelligence, as our previous article explains. For instance, the swarm went a perfect 7-0 in its most recommended picks for an English Premier League slate earlier this season.
The hive mind picks Detroit to win with high confidence and 91 percent brainpower behind the prediction.
The swarm predicts the Lions will by four to six points with 84 percent brainpower. The Vegas line has Detroit by five.
The game kicks off 4:30 p.m. Eastern Saturday on the NFL Network.