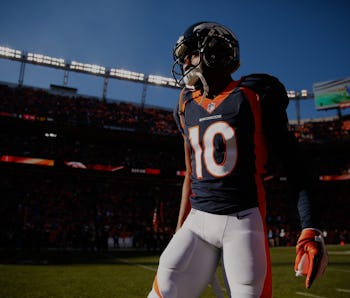 Innovation
Who Will Win Denver Broncos vs. Indianapolis Colts? A.I. Predicts
These teams were both in the AFC Championship Game! Quite recently!
Getty Images / Justin Edmonds
The Denver Broncos and Indianapolis Colts offer the discerning NFL fan a choice of nightmare seasons. Do you prefer a campaign that was doomed from the start, or one that started with such promise only to collapse in horrifying fashion? Either way, a hive mind of NFL fans predicts will win Thursday night.
If nothing else, a game between this Broncos team and this Colts team sure feels like a matchup worth of the very special phenomenon that is Thursday night football. The Broncos finally snapped last week the longest losing in franchise history, as the team has had to cycle between quarterbacks Trevor Siemian, Brock Osweiler, and Paxton Lynch to no particular success. Indianapolis meanwhile has had to play the entire season without injured star Andrew Luck, who it turns out was basically the only thing keeping the Colts even vaguely functional.
To predict the result of this and other games, Unanimous A.I. used what's known as swarm intelligence to forecast the week's slate. About 30 NFL fans worked together as a hive mind to make picks. As you can see in the animation below, each participant controlled a little golden magnet and used it to drag the puck toward the answer they thought was the most likely outcome. As the users saw the puck move toward a particular outcome, it triggers a psychological response. They readjust their decision-making, building toward a consensus. Here's Unanimous A.I. founder Louis Rosenberg explaining swarm intelligence at a recent TEDx Talk.
Unanimous A.I. has made some scarily accurate predictions in the past using swarm intelligence, as our previous article explains. For instance, the swarm went a perfect 7-0 in its most recommended picks for an English Premier League slate earlier this season.
The swarm isn't sure who to pick for this one, ultimately choosing the Colts as the home team to get the win. But it's a low confidence pick with 73 percent brainpower behind it.
The hive mind picks the Colts to win by one to three points, a prediction made with 86 percent brainpower behind it. The Vegas line actually favors the Broncos by 2.5 points.
The game kicks off 8:25 p.m. Eastern Thursday on NBC, the NFL Network, and Amazon Prime Video.