Amazon Reveals Its New Shipping Options for Last-Minute Holiday Shopping
Encouraging procrastinators.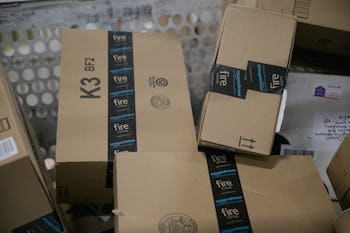 Getty Images / Aaron P. Bernstein
Amazon is giving last minute holiday shoppers a reason to procrastinate — even if you don't have Prime.
The company announced that customers can shop until Christmas Eve at 11:59 p.m. — that's right, literally a minute before Christmas Day — with Prime Free Same-Day Delivery and Prime Now.
On top of its classic 2-Day-Shipping option, the platform has expanded Prime Free Same-Day Delivery and Prime Free One-Day Shipping in over 8,000 cities and towns.
With all the shipping options available, Amazon provided a "Holiday Shipping Cheat Sheet" to help guide Prime members through their holidays shopping.
Below are the shipping dates to keep in mind:
Dec. 15: Free shipping on millions of items fulfilled and shipped by Amazon, free for all customers
Dec. 18: Last day for standard shipping, free for Prime members
Dec. 22: Last day for two-day shipping, free for Prime members
Dec. 23: Last day for one-day shipping, free for Prime members
Dec. 24: Last day for same-day delivery, free for Prime members (order by 9:30 a.m. local time or earlier)
Dec. 24: Prime Now offers Prime members free two-hour delivery windows (order by 9:00 p.m. local time or earlier)
Dec. 24: Whole Foods Market stores and Amazon Books open Christmas Eve (store hours vary by location)
According to Amazon, "Prime members receive same-day and one-day orders delivered to their doorstep for free, seven days a week – even Sunday." And eligible same-day orders placed in the morning will arrive between 6 p.m. and 9 p.m., with orders placed in the evening, or through the one-day option, arriving the next day.
For the non-Prime members out there, same-day delivery will be available in eligible zip codes for $8.99 per order plus $0.99 per item.
Amazon Books
You can also pop into Amazon Books in Seattle, Bellevue (Wash.), New York City, Los Angeles, San Diego, San Jose, Walnut Creek, Chicago, Boston (Dedham and Lynnfield), Portland, and Paramus (N.J.). The locations will carry the Echo, Kindle, Fire tablet and Fire TV, along with Amazon Gift Cards.
When all else fails, head to Whole Foods.
Whole Foods Market, now owned by Amazon, will be also have gift displays. These will include Amazon devices like the Echo line, along with beauty products benefitting charitable foundations.
Amazon Key to Amazon Lockers
Amazon Locker, centrally located in more than 50 cities, will also allow for last minute deliveries without the worry of loss packages. Then there are the Amazon pickup locations in 33 cities, which offer Prime members free same-day and free one-day pickup on millions of items. According to Amazon, customers can place orders by noon on December 23 for pick-up on Christmas Eve. Pick up locations are open until 5 p.m. on December 24.