Who Will Win New England Patriots vs. Miami Dolphins? A.I. Predicts
The Patriots look to stay on course for next week's huge game.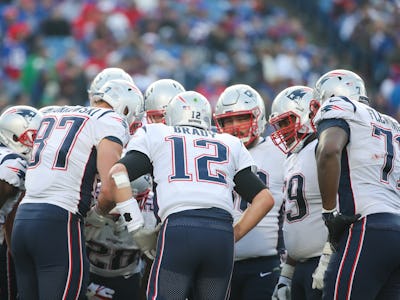 Getty Images / Tom Szczerbowski
The New England Patriots need to win Monday to set up a clash of 11-2 titans next week when they play the Pittsburgh Steelers. The Miami Dolphins are on the furthest edge of the playoff hunt but at least have a chance to ruin their divisional rival's day. A hive mind of about 30 NFL fans predicts the Patriots will win.
Remember when the defending champions were 2-2 and it seemed like maybe their defense wouldn't be good enough to give 40-year-old quarterback Tom Brady and the offense enough cushion to win games? Yeah, about that: Eight wins later, and the Patriots haven't given up more than 17 points while scoring at least 20 in all but one of their wins. The Dolphins crushed a terrible Denver Broncos squad last week to break a long losing streak, but it will be a much taller order to spring the upset on New England at home. Better hope the Patriots are looking ahead to Pittsburgh, maybe.
To predict the result of this and other games, Unanimous A.I. used what's known as swarm intelligence to forecast the week's slate. About 30 NFL fans worked together as a hive mind to make picks. As you can see in the animation below, each participant controlled a little golden magnet and used it to drag the puck toward the answer they thought was the most likely outcome. As the users saw the puck move toward a particular outcome, it triggers a psychological response. They readjust their decision-making, building toward a consensus. Here's Unanimous A.I. founder Louis Rosenberg explaining swarm intelligence at a recent TEDx Talk.
Unanimous A.I. has made some scarily accurate predictions in the past using swarm intelligence, as our previous article explains. For instance, the swarm went a perfect 7-0 in its most recommended picks for a recent English Premier League slate.
The swarm predicts New England will win with high confidence, with 79 percent brainpower behind the pick.
The hive mind predicts the Patriots will win by 10 to 12 points, with 87 percent brainpower behind that pick. The Vegas line has the Patriots by 11.
The game kicks off 8:30 p.m. Eastern Monday on ESPN.