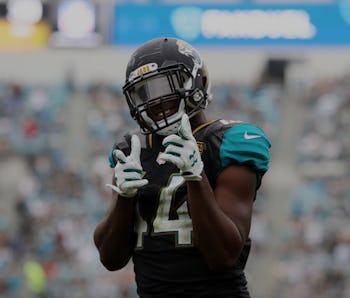 Innovation
Who Will Win Seattle Seahawks vs. Jacksonville Jaguars? A.I. Predicts
Two teams vying for playoff positioning, totally normal for the Jags.
Getty Images / Sam Greenwood
Both the Seattle Seahawks and Jacksonville Jaguars come into this game 8-4 and still looking to make moves to win their respective divisions. That's business as usual for the Seahawks. Not so much for the Jaguars! A hive mind of about 30 NFL fans predicts the Seahawks will win Sunday.
The Jaguars are looking for their first outright winning season since their 11-5 campaign in 2007. It's been a little while! In that intervening decade, the Seahawks have made the playoffs six times, including six of the past seven seasons, with a Super Bowl win and another close title game loss. They know what it's like to be in late-season, high-pressure situation where a win or a loss could alter the trajectory of one's year. Not so much the Jaguars, who have a chance to make one hell of a statement by getting their ninth win against the seasoned Seahawks.
To predict the result of this and other games, Unanimous A.I. used what's known as swarm intelligence to forecast the week's slate. About 30 NFL fans worked together as a hive mind to make picks. As you can see in the animation below, each participant controlled a little golden magnet and used it to drag the puck toward the answer they thought was the most likely outcome. As the users saw the puck move toward a particular outcome, it triggers a psychological response. They readjust their decision-making, building toward a consensus. Here's Unanimous A.I. founder Louis Rosenberg explaining swarm intelligence at a recent TEDx Talk.
Unanimous A.I. has made some scarily accurate predictions in the past using swarm intelligence, as our previous article explains. For instance, the swarm went a perfect 7-0 in its most recommended picks for a recent English Premier League slate.
The swarm predicts the Seahawks will win, though only with low confidence and 76 percent brainpower.
The hive mind sees this one as perilously close, picking the Seahawks to win by one to three points with 85 percent brainpower behind the prediction. The Vegas line favors the Jaguars by 2.5 points.
The game kicks off 4:25 p.m. Eastern Sunday on Fox.