Who Will Win Philadelphia Eagles vs. Los Angeles Rams? A.I. Predicts
A clash of NFC heavyweights and 2016 quarterback draft picks.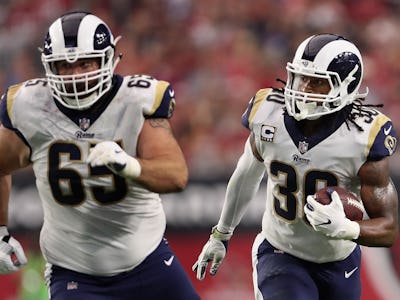 Getty Images / Christian Petersen
The Philadelphia Eagles look to salvage their two-game NFC West trip with a win over the Los Angeles Rams, who are playing their third fellow division leader in four weeks. A hive mind of about 30 NFL fans predicts the Eagles will win this titanic matchup.
The Philadelphia Eagles sit at 10-2 after losing last week's game in Seattle against the Seahawks. They can't afford to lose Sunday against the Rams if they want a clear path to securing a first-round bye. The Rams, meanwhile, look to go 2-1 in their gantlet against the Minnesota Vikings, New Orleans Saints, and now the Eagles. It's also a matchup of two of the quarterbacks taken at the top of the 2016 NFL draft, as the Rams' first overall pick Jared Goff looks to continue his breakout year against the Eagles' MVP candidate Carson Wentz.
To predict the result of this and other games, Unanimous A.I. used what's known as swarm intelligence to forecast the week's slate. About 30 NFL fans worked together as a hive mind to make picks. As you can see in the animation below, each participant controlled a little golden magnet and used it to drag the puck toward the answer they thought was the most likely outcome. As the users saw the puck move toward a particular outcome, it triggers a psychological response. They readjust their decision-making, building toward a consensus. Here's Unanimous A.I. founder Louis Rosenberg explaining swarm intelligence at a recent TEDx Talk.
Unanimous A.I. has made some scarily accurate predictions in the past using swarm intelligence, as our previous article explains. For instance, the swarm went a perfect 7-0 in its most recommended picks for a recent English Premier League slate.
The hive mind predicts the Eagles will win this one, though it's close: It's a low confidence pick with 72 percent brainpower behind it.
The swarm likes the Eagles to win this by one to three points, with 84 percent brainpower behind the prediction. The Vegas line favors the Rams by two points.
The game kicks off 4:25 p.m. Eastern Sunday on Fox.