Who Will Win New York Jets vs. Denver Broncos? A.I. Predicts
A case study in expectations.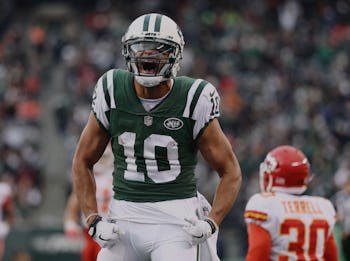 Getty Images / Elsa
The Denver Broncos are mired in the longest losing streak in franchise history and are in utter disarray. The New York Jets have done way better than anyone would have predicted in reaching 5-7. A hive mind of about 30 NFL fans predicts the Jets will win Sunday.
Look, I'll admit I'm not the deepest football analyst out there. And what it often means when you're dealing with a not especially deep football analyst is a lot of discussion of quarterbacks. Which, yes, guilty as charged! But in this case, it's hard to avoid. The Denver Broncos have been unable to get anything out of its three quarterbacks after Trevor Siemian's early competence vanished, whereas the Jets have won way more games than expected because Josh McCown, at 38, up and had a career year. That's not everything going on here — the Jets' defense has held up well, and consider the dull but important competence of Jets coach Todd Bowles with first-year Broncos coach Vance Joseph, who may be in over his head — but the Jets have ridden the best version of Josh McCown ever to close to a .500 record. That's amazing, frankly.
To predict the result of this and other games, Unanimous A.I. used what's known as swarm intelligence to forecast the week's slate. About 30 NFL fans worked together as a hive mind to make picks. As you can see in the animation below, each participant controlled a little golden magnet and used it to drag the puck toward the answer they thought was the most likely outcome. As the users saw the puck move toward a particular outcome, it triggers a psychological response. They readjust their decision-making, building toward a consensus. Here's Unanimous A.I. founder Louis Rosenberg explaining swarm intelligence at a recent TEDx Talk.
Unanimous A.I. has made some scarily accurate predictions in the past using swarm intelligence, as our previous article explains. For instance, the swarm went a perfect 7-0 in its most recommended picks for a recent English Premier League slate.
The swarm predicts the Jets will with, albeit with low confidence and 83 percent brainpower behind the pick.
The hive mind likes the Jets to win by four to six points, with 82 brainpower behind that prediction. The Vegas line has New York by a point.
The game kicks off 4:05 p.m. Eastern Sunday on CBS.