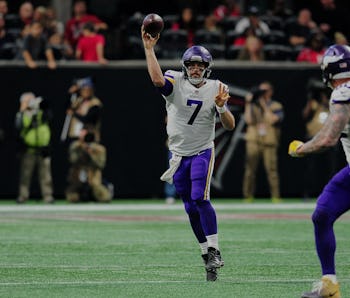 Innovation
Who Will Win Minnesota Vikings vs. Carolina Panthers? A.I. Predicts
Who would have predicted how fun this game would be?
Getty Images / Scott Cunningham
Perhaps the biggest game of this week's NFL slate sees the NFC-leading Minnesota Vikings head to Charlotte to take on the Carolina Panthers, who remain very much in the mix for the NFC South title. A hive mind of about 30 NFL fans predicts the Vikings will win Sunday.
The Vikings have gone from carousel of injured quarterbacks to accidental beneficiary of Aaron Rodgers's latest injury to possibly the best team in the whole damn conference, all with journeyman backup Case Keenum doing enough at quarterback to let the defense and rushing attack do their thing. They could become the first team ever to clinch home field advantage through the Super Bowl, given Minnesota is hosting the game this season. Meanwhile, the Panthers have looked generally very good this year but have struggled against the NFC's best, with three of their losses coming to the Philadelphia Eagles and twice to the New Orleans Saints. Oh, and once to the Chicago Bears. The Bears have just the weirdest wins this year.
To predict the result of this and other games, Unanimous A.I. used what's known as swarm intelligence to forecast the week's slate. About 30 NFL fans worked together as a hive mind to make picks. As you can see in the animation below, each participant controlled a little golden magnet and used it to drag the puck toward the answer they thought was the most likely outcome. As the users saw the puck move toward a particular outcome, it triggers a psychological response. They readjust their decision-making, building toward a consensus. Here's Unanimous A.I. founder Louis Rosenberg explaining swarm intelligence at a recent TEDx Talk.
Unanimous A.I. has made some scarily accurate predictions in the past using swarm intelligence, as our previous article explains. For instance, the swarm went a perfect 7-0 in its most recommended picks for a recent English Premier League slate.
The hive mind likes the Vikings to win this one, though only with low confidence. There's a reasonably high 89 percent brainpower behind the pick.
The swarm feels good about the margin of victory, predicting Minnesota will win by four to six points with 90 percent brainpower. The current Vegas line is the Vikings by 2.5 points.
The game kicks off 1 p.m. Eastern Sunday on CBS.