Who Will Win Chicago Bears vs. Cincinnati Bengals? A.I. Predicts
Yeah, this one is a bit grim.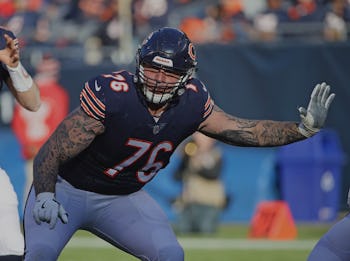 Getty Images / Jonathan Daniel
Are the Cincinnati Bengals out of the playoff chase? They are 5-7 and 12th in the AFC, so, probably? Though have you seen how bad the AFC is this year? Anyway, they get to play the Chicago Bears this week, who come in looking to snap a five-game losing streak. A hive mind of about 30 NFL fans predicts the Bengals will win.
There are teams in worse shape than either the 5-7 Bengals, who at least have recovered a bit from a terrible 0-3 start, and the 3-9 Bears, who seem like they maybe have something in number one overall pick and rookie quarterback Mitch Trubisky. But there's a very good chance neither Marvin Lewis nor John Fox will be back as coaches of their teams next year, so there's a general feeling of playing out the string here. In Fox's case, he has the worst winning percentage in Bears history over his three years with the team. Lewis is actually the winningest coach in Bengals history and has been there since 2003, but yeah, it feels like it might be time. Though hey, a four-game winning streak might just sneak the Bengals into the playoffs, and who better to start it against than the lowly Bears?
To predict the result of this and other games, Unanimous A.I. used what's known as swarm intelligence to forecast the week's slate. About 30 NFL fans worked together as a hive mind to make picks. As you can see in the animation below, each participant controlled a little golden magnet and used it to drag the puck toward the answer they thought was the most likely outcome. As the users saw the puck move toward a particular outcome, it triggers a psychological response. They readjust their decision-making, building toward a consensus. Here's Unanimous A.I. founder Louis Rosenberg explaining swarm intelligence at a recent TEDx Talk.
Unanimous A.I. has made some scarily accurate predictions in the past using swarm intelligence, as our previous article explains. For instance, the swarm went a perfect 7-0 in its most recommended picks for a recent English Premier League slate.
The swarm predicts the Bengals will win, though it's only a low confidence pick with 81 percent brainpower. A good chunk of the dissent is for a high confidence Bengals pick, admittedly.
The hive mind predicts the Bengals will win by seven to nine points, with 83 percent brainpower behind the pick. The Vegas line has Cincinnati by six points.
The game kicks off 1 p.m. Eastern Sunday on Fox.