Who Will Win Green Bay Packers vs. Cleveland Browns? A.I. Predicts
Just one more week until Aaron Rodgers is back!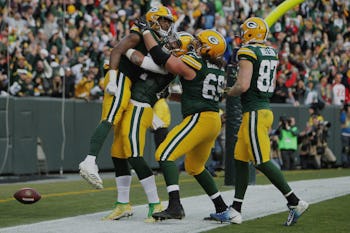 Getty Images / Dylan Buell
The Green Bay Packers haven't completely folded during the seven-game absence of star quarterback Aaron Rodgers, who is due back next week. The Cleveland Browns have had literally nothing go right during a miserable 0-12 season. A hive mind of about 30 NFL fans predicts the Packers will win Sunday.
The Packers are definitely ready for Rodgers to return, considering backup Brett Hundley most recently passed for just 84 yards again the Tampa Bay Buccaneers in a game Green Bay somehow won. The winless Browns should be about as close to a guaranteed win as it gets, as they have lost their past five games by at least two scores. But maybe, just maybe, the Browns are overdue for a little good luck, and there are fewer better ways to manufacture some good fortune than playing a backup quarterback who, though not terrible has pretty ably demonstrated he is indeed a backup.
To predict the result of this and other games, Unanimous A.I. used what's known as swarm intelligence to forecast the week's slate. About 30 NFL fans worked together as a hive mind to make picks. As you can see in the animation below, each participant controlled a little golden magnet and used it to drag the puck toward the answer they thought was the most likely outcome. As the users saw the puck move toward a particular outcome, it triggers a psychological response. They readjust their decision-making, building toward a consensus. Here's Unanimous A.I. founder Louis Rosenberg explaining swarm intelligence at a recent TEDx Talk.
Unanimous A.I. has made some scarily accurate predictions in the past using swarm intelligence, as our previous article explains. For instance, the swarm went a perfect 7-0 in its most recommended picks for a recent English Premier League slate.
The hive mind predicts the Packers will win with high confidence and 86 percent brainpower.
The swarm sees the Packers winning by seven to nine points, with 82 percent brainpower behind the prediction. The Vegas line has the Packers by just three points.
The game kicks off 1 p.m. Eastern Sunday on Fox.