Who Will Win Oakland Raiders vs. Kansas City Chiefs? A.I. Predicts
AFC West supremacy is on the line!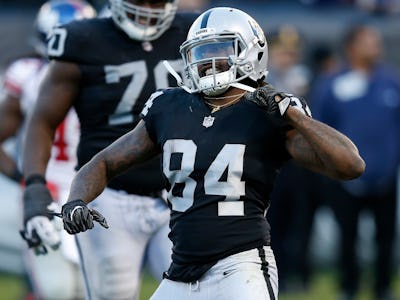 Getty Images / Lachlan Cunningham
The Kansas City Chiefs have lost four in a row to drop all the way to 6-6. The Oakland Raiders have won four of their last six to climb all the way to 6-6. Might as well make this one for the AFC West lead then, eh? A hive mind of about 30 NFL fans predicts the Chiefs will win.
Well, Kansas City really better pick up that win. Since their first loss of the season — you know, back when they were still the NFL's lone unbeaten team — came against the Raiders, a loss would effectively drop them two games behind Oakland with three games left. Meanwhile, the Los Angeles Chargers continue to lurk, having rallied from 0-4 to 6-6 themselves and are somehow now the least embarrassing team in this division. It's hard to believe there was once a time when the AFC West looked like it might be the most dangerous in the whole league.
To predict the result of this and other games, Unanimous A.I. used what's known as swarm intelligence to forecast the week's slate. About 30 NFL fans worked together as a hive mind to make picks. As you can see in the animation below, each participant controlled a little golden magnet and used it to drag the puck toward the answer they thought was the most likely outcome. As the users saw the puck move toward a particular outcome, it triggers a psychological response. They readjust their decision-making, building toward a consensus. Here's Unanimous A.I. founder Louis Rosenberg explaining swarm intelligence at a recent TEDx Talk.
Unanimous A.I. has made some scarily accurate predictions in the past using swarm intelligence, as our previous article explains. For instance, the swarm went a perfect 7-0 in its most recommended picks for a recent English Premier League slate.
The swarm likes the Chiefs to win here, albeit only with low confidence and 73 percent brainpower behind the pick.
The hive mind predicts this will be a nail-biter, with the Chiefs winning only by one to three points. There's 85 percent brainpower behind that prediction. The Vegas line has the Chiefs by four.
The game kicks off 1 p.m. Eastern Sunday on CBS.