Who Will Win Indianapolis Colts vs. Buffalo Bills? A.I. Predicts
Oh goodness, is it Nathan Peterman time again?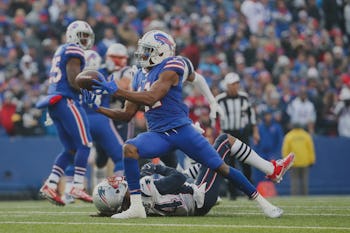 Getty Images / Tom Szczerbowski
The Indianapolis Colts have had to make peace with Andrew Luck being gone for the season — and possibly beyond — as Jacoby Brissett has been more or less okay-ish as quarterback. The Buffalo Bills, on the other hand, face the very real possibility of having to bring back rookie quarterback Nathan Peterman after an injury to Tyrod Taylor. Oh boy. A hive mind of about 30 NFL fans predicts the Bills will win.
The "oh boy" is in reference to Peterman's last start, as Taylor was inexplicably benched earlier this season in favor of the fifth rounder. Peterman proceeded to play just like one would expect a rookie fifth round pick to do so, throwing five interceptions in a half before Taylor mercifully returned. The Bills may have to turn to their shellshocked rookie again though, given Taylor's uncertain status. While one hopes for his sake he plays better in his second start, there is an evil temptation to want to see him throw, say, 10 interceptions in a game. Do it and be a legend, Nathan Peterman!
To predict the result of this and other games, Unanimous A.I. used what's known as swarm intelligence to forecast the week's slate. About 30 NFL fans worked together as a hive mind to make picks. As you can see in the animation below, each participant controlled a little golden magnet and used it to drag the puck toward the answer they thought was the most likely outcome. As the users saw the puck move toward a particular outcome, it triggers a psychological response. They readjust their decision-making, building toward a consensus. Here's Unanimous A.I. founder Louis Rosenberg explaining swarm intelligence at a recent TEDx Talk.
Unanimous A.I. has made some scarily accurate predictions in the past using swarm intelligence, as our previous article explains. For instance, the swarm went a perfect 7-0 in its most recommended picks for a recent English Premier League slate.
The hive mind predicts the Bills will win with low confidence and 86 percent brainpower behind the pick.
The swarm likes Buffalo to win by four to six points, with 89 percent brainpower behind that prediction. There's no Vegas line on this game, likely because of Taylor's uncertain status.
The game kicks off 1 p.m. Eastern Sunday on CBS.